South welcomes new teachers with fresh perspectives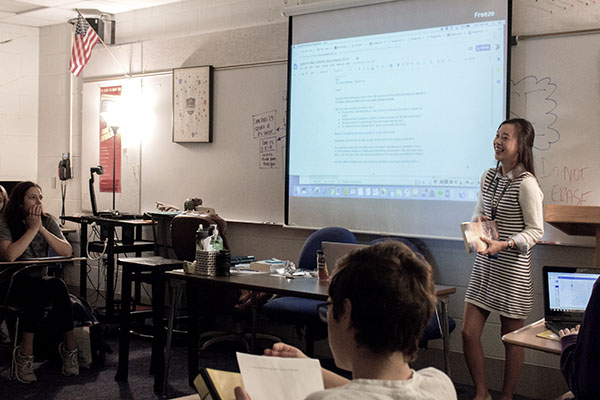 Of all the emotions that new staff members at South are feeling, excitement seems to be the most prominent. With smiles on their faces and hearts full of passion for their profession, these 11 new staff members are ready to put their excitement and expertise to use.
However, excitement is not the only emotion new staff members feel. English Teacher Blanca Ascencio has been teaching for 10 years, a majority of which  has been on the South Side of Chicago.
"I feel excited, and I feel grateful to be here," Ascencio said. "I've been learning a lot of new things about the school. Everybody here is nice. The students are great and the teachers are great."
Similarly to Ascencio, School Psychologist Amanda Middleton was also drawn to the people of South when she applied for the job. She explains that she has always been fond of psychology, and studied it at Loyola University.
"I was driven back to GBS because several years ago, I had completed my clinical internship [at GBS] and really enjoyed that experience," Middleton said. "I loved the staff, the students, and I loved the families that I got to work with."
Guidance Counselor Veronica Salazar shared some insight on her first day at GBS. According to Salazar, she is also happy that she decided to be a counselor at South.
"I would say at first, any new adventure could be overwhelming [because you have to learn] the processes, [and see if you are] going to like the people, but so far it has been better than I could have imagined," Salazar said.
Biology teacher Julia Navarro taught freshmen as a student-teacher at Maine South High School. According to Navarro, freshmen are her favorite students to teach due to their enthusiasm. She had wanted to be a teacher since high school.
"I had a friend in high school who was borderline not going to graduate," Navarro said. "I [tutored] him through his geometry class, and watched him succeed where he thought he never could. It sparked [my interest for teaching]."
Dan Carpenter, special education teacher, was also inspired by experiences in highschool to pursue a teaching career, especially in the department he currently works for. According to Carpenter, he has devoted his entire career thus far to his department.
"When I was in high school, there was a peer mentoring program, [similar to South's]," Carpenter said. "I became good friends with some of the students with disabilities. I still talk to the students I went to school with and the relationships I formed with [the students] inspired me to become a special education teacher."
Stephanie Barajas, social studies teacher, was inspired by some of her high school teachers. According to Barajas, her AP U.S. History teacher played a huge role in encouraging her to pursue teaching career.
"My history teacher [told] us stories of her activism experience, like how she was tear gassed and how she would protest," Barajas said. "I thought it was cool [that] she brought that into the classroom."
For English Teacher Jen Jun, teaching has been one of her passions for the majority of her life.
"I have always wanted to be a teacher since I was 3 years old," Jun said. "Ever since I saw the person standing in front of the room, I wanted to be that person too."
On the other hand, Larissa Hanson, guided studies teacher, majored in computer   science and math. According to Hanson, it wasn't until she became a developer for corporate companies that she realized it wasn't for her.
"I went back to the drawing board in the middle of my undergrad [years] and I seriously white-boarded what I really love, what is my dream job, and all the little qualities that I need to feel … alive," Hanson said. "When I took a step back it was very clear that being a teacher is what I wanted to do."
For Chemistry  Teacher Lauren Johnson, her position at South will be her first full year teaching. According to Johnson, she was pleasantly surprised when she got the job.
"[I couldn't believe it because] this is a really good district with amazing students, and I didn't have the same job experience as other people might've had," Johnson said. "Being as young as I am and getting a job at a really good district was really exciting."
Along with Johnson, Jun was glad to hear about her job acceptance. According to Jun, she heard a lot of favorable things about South and the Glenview community.
"Everyone always talks about the resources [South provides], how kids are so great, and how this is a great place to end up," Jun said. "I just took a shot. I thought, 'Why not? What's the worst that could happen?' But, I was pleasantly surprised when I got the call back and things got rolling."
Lauren Baker, special education teacher, worked as an accountant before teaching, and made the transition while teaching at a homeless shelter. These experiences translate into her classroom philosophy.
"I come from a place of empathy," Baker said. "I think that in a classroom, it's very important to feel comfortable and respected and be okay with making mistakes, because that's when learning happens."
Similarly to Baker, Natalie Szczur, social studies teacher, also believes students are learning through mistakes.
"Often times … we have just this dedication to grades, let's get the 100 percent, let's get the A," Szczur said. "But sometimes in school that's not the case. To actually succeed, success looks like just a bunch of failures. So, understanding that it is okay not to get anything right away, it is okay not to be perfect, the goal is just to grow and learn. So if you are growing and learning, you are succeeding."