GBS alumni attend Southern universities, note cultural differences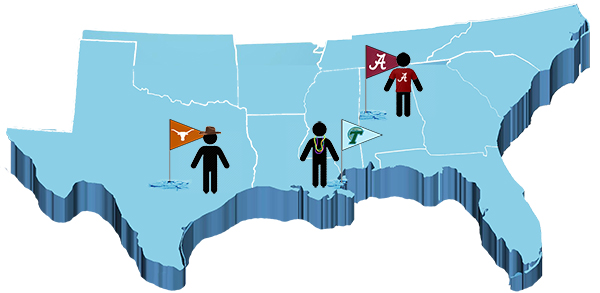 Whether in Illinois or thousands of miles away, students in college have to learn to adjust to a new environment. Some GBS alumni, who have chosen to pursue higher education in the South, have had to learn to adjust to a new culture entirely.
Mary O'Dea, a sophomore at Tulane University, said she was pushed out of her comfort zone when going to study in New Orleans. However, the new culture she was exposed to made O'Dea fall in love with the city.
"[New Orleans] is the most unique city I've ever witnessed, seen, experienced or researched," O'Dea said. "It's a common saying that when you're in New Orleans, it's like you're studying abroad in the U.S. because there's so much history, art and everything you could want. The different kinds of cultures and the ability to celebrate those and experience things you've never [experienced] before has really been the most amazing experience."
On the other hand, Emma Thomas, who is a sophomore at the University of Alabama, said she has found the political climate to be a change from the North Shore as well. Thomas believes that she has learned a lot more about the political spectrum since coming to the university.
"Being at a university that has so much diversity makes it easy to maintain your own [political] viewpoints and not be swayed by the people around you," Thomas said. "You're able to present your own opinions and…listen and learn instead of dismiss, which has been a really rewarding experience."
Although she believes the political climate is different, Thomas still sees political solidarity on campus when it comes to elections.
"The Alabama senate election was a really interesting time on campus," Thomas said. "It was special because generally, as a campus community, we were all supportive of Doug Jones. A lot of people assumed that Alabama would support a Republican candidate, but as a university, it was cool to see us stand up and support Doug Jones and his Democratic agenda because he was the more moral candidate."
Similar to Thomas, Sean Dolan, a sophomore at the University of Texas at Austin, noticed a different political climate on campus as well and believes it has made him more politically aware.
"Everything you hear about how prideful and big and loud Texas is is all true," Dolan said. "I personally am very good at diving into a new place [and] I don't think that [my beliefs] in particular have changed, but my willingness to talk about politics has definitely changed, as has my confidence in what I believe."
Dolan believes that the University of Texas  at Austin campus is more liberal because of the diversity and the location in the state capitol. Dolan says he has seen many protests, which he believes is part of what makes Austin so unique.
"After the 2016 election, [a protest] lasted six-and-a-half hours" Dolan said. "The [protestors] walked around the whole city and ended at the capitol. This was a new experience for me and I had no idea what to expect. It…showed me that people were able to respect the police and traffic, and the police were super respectful and guided the protests. I never thought that I would be going to a political event before I got here because it had never really been on my radar in Glenview."