Current political climate draws teachers to women's march on Washington, D.C.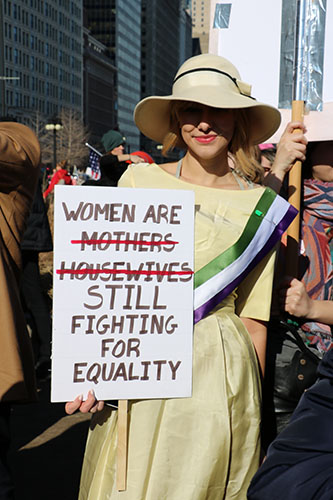 On Jan. 21, the streets of Washington, D.C. overflowed with the echoing voices of over 470,000 passionate citizens marching for and voicing what they believed in. D.C. streets were filled with colorful posters and men and women fighting for their rights; marches like this popped up around the globe along with an additional 2 million demonstrators.
Tara Tate, South AP Government and Argumentation and Debate teacher, attended the march in D.C., along with a few of her colleagues. According to Tate, as a parent, she felt it was important to voice her concerns about the current political climate and support a cause she believes in. Tate explained that the reason she decided to attend was for her daughter.
"I've always been very passionate about civil rights, social justice and my place in the world as a women and what that means," Tate said. "I think having a 2-year-old daughter puts a whole new focus on that."
People from all over the country gathered in Washington D.C. to be part of the march. According to science teacher Jessica Pritzker, she was inspired to go to D.C. because of her passion for science and concern for the environment, along with her belief in female equality.
"I am a scientist, and I believe in protecting the environment and being a steward to the planet," Pritzker said. "I [also] believe in women's rights, and I believe that women's rights are human rights; I believe in education and I believe in a lot of things that the march stood for."
According to Tate, the fight for a political voice for women and the ability to be a force for change in government that dates back to the early 20th century is still prevalent today.  Now, women are not choosing to remain silent, but rather to be a voice for change in government and in the world, Tate explained.
"For me, it was just about making sure my voice was heard, and even though I was one out of 500,000 in D.C. and one of [millions] around the world, it was just so that we are not forgotten, and we are here to say we are watching the government as a whole to make sure they continue fighting for women's rights," Tate said.   
Tate explained that it was nice to remind herself that she had a voice and knew how to use it, but also encouraged others to take a stand.
"If there was one thing for students to get out of this, it's not that there were a bunch of teachers from GBS that went and marched on Washington, and in Chicago, it is that civic engagement for students is so important," Tate said.
According to Pritzker, there was a very supportive and diverse group that assembled in Washington, D.C. and even though they all had different stories, they gathered together as one to fight for what they believed in.
"It was great to see mothers with children and grandmothers and women in wheelchairs," Pritzker said. "It was very clearly not an easy journey for many people and everyone felt like it was worth doing. I think that the fact that no matter what is being done,  we can stand together is the definition of democracy and it is fabulous."
Like both Tate and Pritzker, English teacher Debbie Cohen also went in the march in D.C. According to Cohen her goal was to stand in solidarity with others who may be vulnerable to upcoming changes within the country.
"It was a personal goal [to] instead of react emotionally to events in the country in terms of the outcome of the election, [but] to actually do something even if it was just symbolic," Cohen said.
According to Cohen, she traveled to Washington, D.C. on a bus with other marchers. Her journey to Washington, D.C. was peppered with little setbacks like a late and even broken down bus, but she said the positive  energy of her travel companions made the road trip worthwhile.
"I did ride the bus there for twelve hours, got off, participated in the march on Saturday morning, and Saturday night at 8:00 p.m. got back on the bus and rode home overnight," Cohen said. "It was just fun to spend some time under ridiculous conditions with other people, and everyone was upbeat and optimistic and really interested in getting to know each other. We were all strangers when we started, and it was fun realizing how much we had in common."
According to Pritzker, she found comfort in numbers as she saw the women swarming around her, all fighting for the same cause and was reassured during a very uneasy time.
"It was amazing, […] the fact that at a time when a lot of us feel very isolated and very sad, the fact that there were millions of us that showed up, that is something that is very affirming," Pritzker said.
For Pritzker, and many others, it was a day to celebrate the fact that her country provides the opportunity to voice opinions and beliefs in a public forum to try and make positive change.
"I got on the plane and the whole entire plane was filled with women, and then I got on the train in the morning and the whole train was filled with women, and there was something really lovely about that experience," Pritzker said. "It was safe and it was supportive, and it was one of the coolest things I've ever done."