South students reflect on their fathers' positions as educators, parents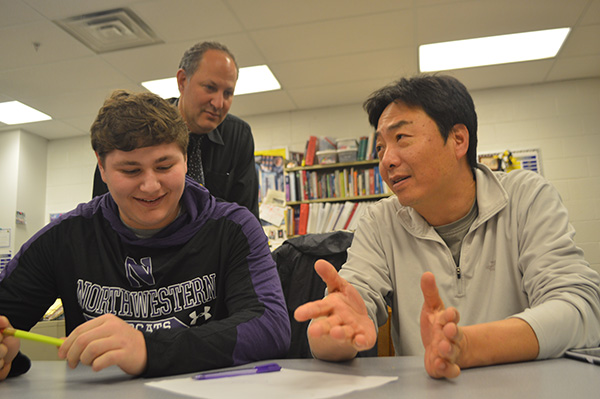 Abby Grant, Assistant Features Editor
December 16, 2016
An alarm sounds at 6:45 a.m. and the typical South student quickly hops out of bed, scrambles to gather an outfit for the day and aggressively sweeps toothpaste across their teeth just minutes before giving a hug goodbye to their parents until the evening. As a result, school becomes a home away from home for many South students, and parents are replaced by the teachers for the day. However, for students like junior Simon Farber, their situation differs from this scenario that pertains to most South students.
According to Farber, he was first informed about his dad's teaching position at South during the sixth grade when his dad, math teacher Steve Farber, first started working in the Titan Learning Center. Simon expressed that although many believe having a parent work at their son or daughter's school entails awkwardness, he has found his dad's presence to be a favorable and impactful aspect of his high school experience.
"He knows teachers I have even outside of the math department, which is good for me because he can talk to them [in the office] about when I miss school," Simon explained. "It's more advantageous that he's here."
Simon explained that since his freshman year, he has been positioned on an exceptionally high behavioral pedestal due to his father's teaching position in the Math Department at South. As a result, Simon feels he is expected to exceed adequate expectations.
"Knowing that [my dad] is here and that he gets reports from all my teachers, it's like one more reason to be mature and more well [behaved] in class because [I know] that if I ever do anything wrong, he's going to be the first one to find out about it," Simon said.
According to Steve, his teaching job at South has enabled him to engage in the community at school. Steve explained how having a son the same age as his students has enabled him to gain a better feel for how students go about their daily lives.
"I have more empathy for them, I know what their struggles [and] outside interests are," Steve explained. "[…] It's easy to get into a shell and just be thinking, 'I'm the math teacher, this is math, why can't you do math?' So getting to hangout with [Simon and his friends] and talk to them gives me a better feel for what the students are like."
Similarly to Simon, senior Harrison Kane is another student whose parent is an educator at South. According to Kane, he expected to spend an abundance of time with his dad at South prior to entering high school. Even though he only sees his dad at school a few times a week, Kane explained that being the son of his friends' teacher led to unreasonable questions from some of his peers.
"At first, [having friends in my dad's class] is the most annoying thing ever, because so many times kids will come up to me and ask, 'Hey Harrison, can you sneak a picture of the test for me?' and I'll say, 'No, that's cheating, my dad would get fired and I would get in trouble,'" Kane explained.
Although certain peers try to take advantage of the situation, one major benefit Kane has discovered is the ability to see teachers as caring, understanding beings. Kane explained the lessons he's learned about teachers through viewing his dad as an educator.
"He's made it so I feel teachers are actually humans, so I definitely feel more comfortable talking to teachers about subjects other than just school," Kane expressed. "I've even gone to some of my teachers' weddings because of [my dad's position here]."
Kane explained he has encountered many teachers outside of school as a result of his dad's job at South, including at annual barbeques on the last day of school. According to Kane, he has formed friendships with many social studies teachers through his dad.
"[Sometimes] I push Mr. Zapler around or Mr. Lara around," Kane said. "[…] I've [also] helped to pull a few pranks on my dad, like secretly helping teachers move his stuff on his desk all around to different spots, other times [I'm] more helping other students out. I'll send them really embarrassing pictures of my dad so that they can somehow work them into their projects."
According to freshman Ethan Yoon, son of math teacher Steve Yoon, while he views his dad as a nearby resource, a downside to having a parent work in the building is that he has repeatedly  faced issues with expressing himself as his own person.
"Possible cons [from the situation] are people maybe only seeing me as 'Mr. Yoon's kid'," Ethan explained. "That's why I try not to bring it up or point it out; I don't want to be known for that, […] I want to be my own person."
Ethan explained the positive way his dad has shaped his experience at South thus far due to his presence in the building as an educator. According to Ethan, a sense of pride has emerged under his individual circumstances.
"If anything, I feel a bit more proud about going to GBS, because my dad works here and he does stuff for the school and I feel proud of being a part of something he works for," Ethan explained.