South students unearth hidden passions within school environment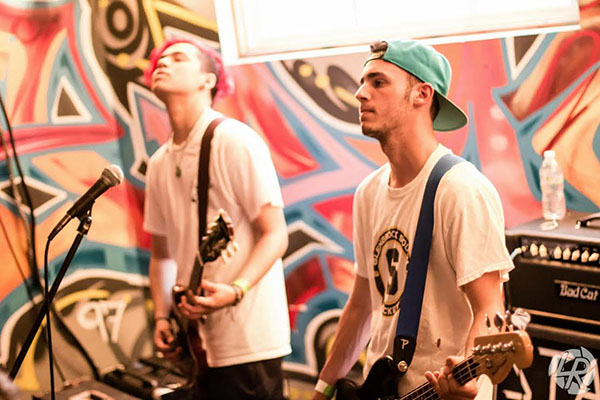 Remember the first day of school as a freshman? Upon walking through the school doors, you have the opportunity to participate in all of the different activities that South has to offer. According to some GBS students, they have discovered their passions while exploring new opportunities.
Senior Joey Legittino discovered his passion for playing bass guitar during his sophomore year.
"[Music is] the best way to express yourself, so I wanted to be able to pick up an instrument and play in a band, [which is] what I did," Legittino said.
Legittino's passion for bass guitar grew after joining a band. According to Legittino, he and his four other bandmates are part of a pop punk band known as Belmont.
"We played Warped Tour in Chicago last summer and went on our own tour [as well]," Legittino said. "We just signed to a label, so playing bass in a band with my friends will be my job for however long we want to do it."
According to Legittino, one of his biggest inspirations for bass guitar was Nirvana member Kurt Cobain. Legittino said that he was inspired by how Cobain didn't let what other people say get to him.
"The way [Kurt Cobain] went about life, as in how people viewed him and how he just [didn't] really care what a lot of people think, is something that always spoke to me," Legittino said. "I wanted to be like him and play music in a punk band."
Similar to Legittino, senior Rebecca Wittenstein said she discovered her interest for teaching later in high school rather than when she first started at GBS. According to Wittenstein, she had no desire of becoming a teacher until her parents had a conference with Mark Gallagher, Wittenstein's former math teacher.
"My parents came back [from conferences and said], 'Mr. Gallagher said that you would be a really good teacher,'" Wittenstein said. "I [thought], 'That's weird, whatever,' and I didn't give it a second thought. But the more I thought about it, the more I [realized], 'Yeah, I would like to teach.'"
According to Gallagher, he thought that Wittenstein would make a good teacher because of all the leadership qualities she has. Along with this, Gallagher said these qualities allowed Wittenstein to stand out from his other students.
"[Wittenstein is] inquisitive, she has good attention to detail and she really enjoys helping other people," Gallagher said. "Those are the top three pieces to any good teacher- someone who strives to always do their best, who is willing to share what they know with others and [enjoys] communicating and helping others."
According to Wittenstein, she believes one of the greatest parts to being a teacher is the opportunity to leave an impact on students. From Wittenstein's experience as a swim instructor and a teacher's assistant, she is proud of her students when they learn something from her.
"There's just something about when you're working with kids and you get to explain something to them, teach them something new and help them understand something that they never even knew without you there," Wittenstein said. "Being able to expand their horizons and even just change their minds a little bit about something is just the coolest thing, and it is so rewarding."
Wittenstein said her first-grade teacher greatly inspired her to go into teaching. According to Wittenstein, she was an incredible teacher whom she formed a close relationship with.
"If [my first grade teacher] accidentally tripped over you or forgot to give you one of the worksheets, she would apologize profusely and [say], 'I'll give you a treat after class,' and you would get a cool marker or ruler," Wittenstein said. "She [made] sure we knew she wanted the best for us, and I remember that all the time."
Similar to both Legittino and Wittenstein, senior Grady O'Connor found his passion for television production as an underclassman. O'Connor was able to find his interest after becoming part of South's television program.
"[Television production] is something that I've always been interested in, even when I was younger," O'Connor said. "I always loved making videos, just messing around with my friends [and] making little movies, and now I want to make it a career."
One of O'Connor's greatest memories in television production was helping with the Variety Show. According to O'Connor, one thing in particular he enjoyed about the Variety Show was the live directing.
"Live directing itself is really invigorating because you have to figure out on the spot what kind of shots you want and all that," O'Connor said. "It was almost like you were nervous, but you liked it."
O'Connor said that one thing he regrets from his time at South is not joining activities earlier. Because of this, he wants future South students to become involved when they first begin high school.
"I waited two years to finally [get involved], which is still a long time in high school," O'Connor said. "I would say going into freshman year, try and do as many things as possible to really find what you're good at and know by the end of your senior year what you want to do in life."