Curiosity: The Oracle highlights a few featured performances in the 2016 Variety Show, Curiosity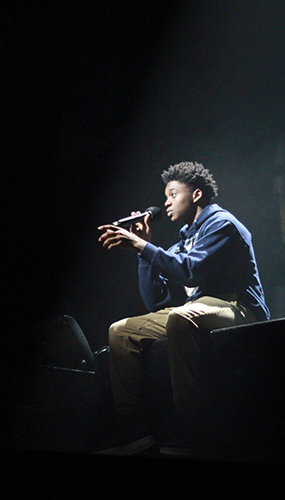 King Trey:
Lit by the dull glow of the white words on a projector screen, a shadow slowly emerges in the darkness. Suddenly a beat drops and junior Trey Harris begins to confidently rap his act, "Wanna Know." Despite a smooth performance and an excited crowd, Harris recounts the nervous moments before performing on stage.
"I was backstage before it was time for my act, giving myself a pep talk — I'm on in 30 seconds, and I was like, 'You can do it. You're gonna be big. Don't worry about it,'" Harris said. "And then the music [came] on, and I [started] walking out […], and then for a second you see actually me and for that second, when I actually [came out of the shadow], everyone started going crazy."
Harris wanted to showcase his talent because of his passion for rap and hip hop music. "Wanna Know" was an original piece in which he wrote his own lyrics to a pre-existing background beat, according to Harris.
"While I [was] listening to the beat, I [was] thinking about the theme of "Curiosity" and the words, 'I just wanna know,' [just came]," Harris said. "I had to write some verses that really show what I was talking about. I really wanted to bring up a bunch of things that most people don't usually read about and some stuff that people do usually talk about but don't dive deep into it."
Not only did Harris have the intention of making the audience reflect on his lyrics, but he also took joy in expressing himself through rap. Harris said he appreciated being able to share his passion with the audience.
"I love to display the form of art that I love that comes from my heart to people that like it," Harris said. "I love the thought that I create from my heart, and that I [had] an opportunity to display [it] to everyone."
Encore:
Dancing together since they can remember, seniors Grace DuBois, Bridget Fogarty, Kelsey McGrath, sophomores Alex Anderson, Megan Sullivan, AnnaLee Tvaroh and freshman Becca Zlotowicz formed the group Encore, for their dance to "This Bitter Earth" by Dinah Washington. According to DuBois, the dance focused on society's problems, and how they can be helped if people come together.
"One of the big concepts that we thought of while we were creating this dance is [that] it's not so much as dealing with the struggles —whether it's the international problems, people to people or environment — and facing them head on, but rather going through it together as a unified group," DuBois said.
Sullivan explained how the choreography elaborates on this idea by having the girls do individual choreography throughout the piece before ultimately coming together.
"We [did] a lot of different parts that are individual and then [we also did ones] together to show the different struggles that we [were] having individually, but then how you help each other by being a cohesive unit," Sullivan said.
According to Fogarty, part of the dance's success stemmed from the strong bond between the group.
"We all have danced together at one point, so it [was] really fun to dance together again […] and [do] a dance that we all made up together," Fogarty said.
Alice Song:
Amid the usual singing and dancing stands senior Alice Song, along side her are two buckets of white paint, numerous paint brushes and a black canvas. In her act, Song speed painted a portrait of herself obscured by her hand to the charged beat of "Clarity" by Zedd.
Along with the border of the painting, which was made out of gears similar to the ones on stage, Song also tied her act to the show's theme of Curiosity through the message of the painting, according to Song.
"[My act tied] into the theme of Curiosity because a constant question that I ask myself is 'What is identity?', 'What is myself?' and 'How [am I] portrayed to others?'" Song said. "I have these questions constantly going on in my head, and the answer always changes."
Song attributed the meaning behind the painting to her intrigue with individuality and who she is as a person. According to Song, she integrated her views of identity into all aspects of her act, especially in her visual and music choices.
"I was going with the theme of what was truly my identity," Song said. "I just go along different types of decisions and paths. I'm different than I was in eighth grade or sophomore year; [how I feel] just kind of changes drastically. So I was having this constant question of who I am and self-image."
In addition to this theme, Song believed the song "Clarity" was part of the inspiration for the  message of her painting. Song formulated her painting speed and strokes with the rhythm and melody of the music.
"'Clarity' kind of was where I started the whole thing, because I was just kind of listening to the song and absorbing into the melody of it," Song said. "Before I auditioned I was just like, 'I'm going to go for this song,' and I just went along with it."
According to Song, each of her paintings held a second hidden image behind the main painting. Using the black canvas, Song utilized black light paint to create an unique secretive image.
"If people [shine] black light [on the painting], they will be able to see what's behind the black canvas because behind each black canvas, I drew something in black light that you can't see in the show," Song said.
Animal:
A figure comes out of darkness and is illuminated once the band starts to play. The voice of senior Kate Maki, alongside senior instrumentalists Sean Dolan, Stephen Sholty, George Tanchev and Megan Tristano, fills the room as she sings "Animal," by Andrew Ripp.
Inspired by one of her older brothers taking part in the Variety Show during his time at South, according to Maki, she took the same song she performed in a voice recital, pairing it with piano, bass and percussion.
"I love singing," Maki said. "I've been involved in it all of my life […] I auditioned freshman year and got into backup singers and have been in backup singers all four years, which has just been so fun. And each year I get to be involved just a little bit more."
Maki also was featured in Backup Singers, Chamber Singers and Scat That, but was most excited for "Animal."
"I [was] very excited for all three [acts]," Maki said. "And I'm very blessed and happy to have  [had] them, but I think I [loved] 'Animal.' I [was] really excited for it because I haven't [had] an opportunity like that before because it's a true solo act."
Although she had features in other acts, Maki said 'Animal' gave her a chance to show the audience her true potential.
"I've seen so many people do [solo acts] in the past in so many V-Shows," Maki said. "Being a part of so many [Variety shows], it's fun to be the one who gets a chance to show the audience what you can do up there."