NSSRA benefits participants, volunteers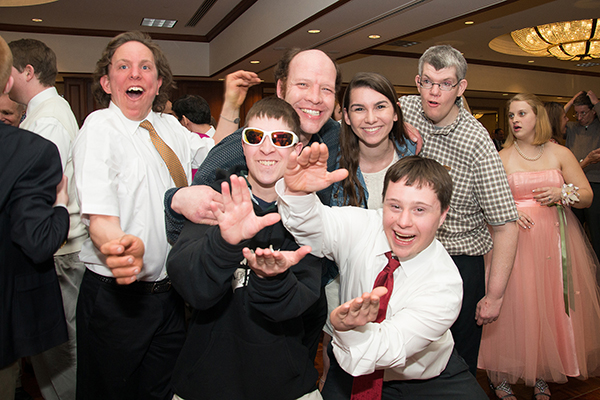 Many children and adults with special needs do not have the same opportunities as people without disabilities. Many a time they find it hard to be able to participate in recreational services, sports or summer camps. However, the Northern Suburban Special Recreation Association (NSSRA) has made it their goal to provide recreational services to enrich the lives of community members with all types of mental and physical disabilities through these activities.
According to nssra.org the vision of NSSRA is to be a leader in recreation by providing innovative and exceptional services for individuals with disabilities.
According to Executive Director Craig Culp, NSSRA has been up and running for 45 years since it opened its doors to aid individuals with special needs in 1970.
"[The NSSRA] basically created this business," Culp said. "NSSRA is the first [special recreation association (SRA)] in Illinois, and it's the longest standing SRA in the nation."
The NSSRA park district, for people with disabilities, is located in Northbrook. According to Culp, the organization focuses on making the lives of the people who attend better and more enjoyable through work and play.
"I love enhancing people's lives and I've been doing it for more than twenty years," Culp said. "I am lucky enough to be in the position I am now."
The success of NSSRA  is based off the idea that a typical day is very distinct and individualized, according to Culp.
"Every single day is unique and sometimes very unpredictable," Culp said. "Our business is serviced to people, specifically individuals with disabilities. There are various [factors] that come into play. A typical day is a lot of fun."
According to Culp, just one example of this excitement is the annual trip to Camp Wigwam in Maine. A group of around 40 individuals fly to Maine and enjoy eight nights at a lake doing all different kinds of outdoor activities. It's a very unique program for NSSRA.
"There are many families who have said that one of the main reasons they live in one of our 13 communities is because NSSRA provides the services that are not available in any other state to their child," Culp said.
Senior Ellie Britton has volunteered at NSSRA since her sophomore year and can attest to many of the  positive aspects of NSSRA. Britton works with children with a variety of disabilities or special needs because working with children is something she sees herself doing in the future.
"[I work] with all types [of kids]," Britton said. "That's part of the thing that I love about working there. No kid [or adult] is alike. It's all different types of disabilities, not one specific [type]. I would say I work [mostly] with kids [who have] autism just because those are a majority of the people that are there. Each kid has their own behavior plan and set schedule and everything. You kind of just have to meet to their needs day by day."
According to Britton, watching the participants develop throughout their time at NSSRA is one of the most rewarding experiences she has encountered, as a volunteer for children with special needs or disabilities.
"I have been in a swimming program every Friday since last spring, and I have worked with the same participant," Britton said. "She went from not even wanting to touch the water to swimming laps on her own. So, you really just get to see them develop, and that's why they keep the same staff with the same [participant]."
Sophomore Lori Steffel has also participated in NSSRA throughout the past two years. Unlike Britton, Steffel has worked strictly on a volunteer basis. The majority of her work is done at the park center, where pool and craft activities are offered to the participants of the program.
"I've always gravitated towards work with kids with special needs," Steffel said. "It's truly where I'm at my happiest. They're honestly some of the most amazing people you'll ever meet."
Steffel believes that NSSRA's work is extremely beneficial for the children who  have the opportunity to participate in the program.
"I think that what these kids typically experience is being treated like they're five," Steffel explained. "Outside of other kids with disabilities, I think they have a hard time forming real friendships with everyday kids. […] I think having volunteers who treat them like they would anyone else really goes a long way in building social skills and positive experiences for these kids."
The core values of NSSRA provide a foundation for the success of the program. These values include "compassion, respect, quality, flexible, accountable, and ethical practices," according to nssra.org. Steffel believes that NSSRA succeeds in accomplishing these values.
"The people who work for NSSRA are the most patient, kind, supportive and encouraging people you can meet," Steffel said. "They've devoted their lives to helping people who can't always help themselves, and that's really amazing. I think they completely succeed in promoting their values; anyone who comes across [NSSRA] can feel it in their presence."
According to Culp, the people he works with, the smiles on the participants' faces and knowing that NSSRA is built with hard working individuals is why he loves his job. It's also why he does not take his days for granted.
"For more than 40 years I've been lucky enough to wake up and be healthy and be, you know, able to go out and do basically what I choose to do," Culp explained. "It's not that simple for the individuals that we serve, and I never ever take another healthy day [or] another happy day, another blessed day that I have for granted."