Battle of the Brews
Starbucks
The presentation of Starbucks Caramel Macchiato was stunning, as it had caramel drizzled on the edges and an ombre of coffee to milk. The caramel balanced the strong taste of the coffee perfectly. This drink was very sweet, almost like a dessert in a cup.
5/5
Dunkin
The coffee itself tasted watered down and bitter, which ruined the taste of the entire drink, and the caramel flavor was nonexistent. Coming from a chain as large as Dunkin', we were dissatisfied with the quality and taste of this coffee.
2/5
Glenview Grind
The combination of coffee and caramel was decent in this macchiato. Although the caramel was a bit artificial and sweet, it didn't overpower the taste of the espresso. Overall, the coffee had a great ratio of caramel, coffee, and milk creating a pretty good drink.
4/5
Eggspresso
The caramel flavor was barely there, which meant that this drink basically tasted like milk. There also wasn't much ice, so the coffee was room temperature. The coffee also had a strange consistency that made the drink taste foamy.
1/5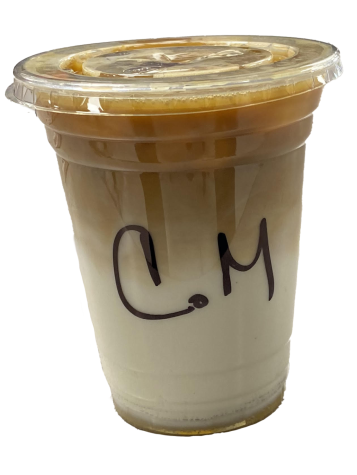 Geek Grind (south's cafe)
The coffee tasted very watery, and we could barely taste any espresso in it. There was caramel in it but it all floated to the bottom so you couldn't taste it in the drink. there was also a very unpleasant aftertaste that lingered for the next hour.
1/5