Art passions pay off for NAHS members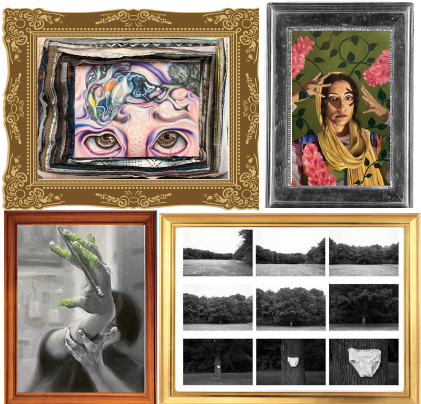 From painting on napkins with soy sauce and chopsticks as a child to creating masterful oil paintings, junior Olivia Fernandez-Geddes has been making art for as long as she can remember. This year, her skill resulted in the admission of one of her pieces into the 2022 National Art Honor Society (NAHS) Juried Exhibition, along with three other South students, Art Teacher Stephanie Fuja said.
The process of submitting students' artwork was done by NAHS sponsors, Fuja explained, and pieces were considered from across the country. Out of 1,665 entries, 199 were selected by jurors to be featured in the exhibition, which can be viewed on the National Art Education Association website. Fuja said she was very proud of the South students whose work was chosen.
"I felt incredibly excited," Fuja added. "[I was] blown away by how many students of ours they chose."
Fernandez-Geddes' chosen artwork was a painting inspired by a friend's Persian heritage. She made it with oil paints on a hand-made stretched canvas, she explained.
"[The painting] was inspired by an artist, Kehinde Wiley," Fernandez-Geddes explained. "I was looking at his pieces, and he did a lot of cultural pieces as well, and I was thinking of my best friend, who has the most beautiful culture I know. I really wanted to celebrate that."
Senior Alex Yunda-Raijer's piece that was selected for the art show is a series of photos, in which each picture gradually moves closer to a pair of underwear tacked onto a tree. He explained that the piece is about the exploration of sexuality.
"I wanted the idea of getting closer to the subject within each frame to symbolize the curiosity aspect, because when we're curious about something, we walk towards it," Yunda-Raijer said. "I shot it outside by a tree because I wanted [the] message [to be] that this coming to fruition with one's curiosity is a very natural experience. It's something we shouldn't be ashamed of."
Senior Jihye Kim also created a piece featured in the art show, which was a painting focused on visually representing the motions of anxiety. The painting is part of their AP Studio Art portfolio, and uses colored paint to show the tactile response to anxiety of twirling and fidgeting with a pen, she explained. Kim said that they were not aware that their piece had been submitted at first, but that she was excited when she found out it had gotten in.
"It was a pleasant surprise [to find out my piece was] selected," Kim said. "Before, I was like 'Oh, that's really nice I hope I make it in,' and then it got on the site and I was really happy."
Similarly, senior Claire Stoddard was elated to learn that her artwork had been selected for the show. She explained that she has had insecurities about her artistic skills in the past, and felt gratified by her piece making it into a national gallery. Stoddard's piece was also part of her AP Studio Art portfolio, which focuses on people's identities and stories. The piece that was selected for the art show was about her sister, she explained, and was a colored pencil drawing with a fabric frame.
"I wanted to encapsulate [my sister's] struggle with emotional trauma, [because] a lot of people with emotional trauma struggle with [both] dependency and self-isolation," Stoddard said. "She's a very emotional person, but she has learned to hide it because of bullying. There's so much in [the piece]."
Stoddard  started making art at the beginning of high school, and has since taken all of the drawing and painting classes offered at South. She also plans to continue pursuing art past high school, and dreams of becoming an art therapist. Yunda-Raijer also hopes to go into a creative field and further his passion. He added that one of the reasons he values his artistic journey is because he views his photos as snapshots of himself.
"My art is a representation of the person I am at that specific point in time," Yunda-Raijer explained. "The work I was creating in the very beginning of my photo journey in 2018, [which focused on] food, represented me because I wanted to be a chef. Now, my work is leaning towards a very narrative-driven examination of who we are as a society and how we think of things like sexuality or fluidity."
Stoddard uses her art to communicate emotions, which she believes can be conveyed more effectively and powerfully through a visual medium than with words.
"[Art is] a form of self-expression," Stoddard said. "It's really [about] bypassing all the worries of having to phrase where your mental state is with words, because words never fully encapsulate emotions. So, through my art I just dig right into the emotions and bypass the words."