Essential businesses face fear amongst coronavirus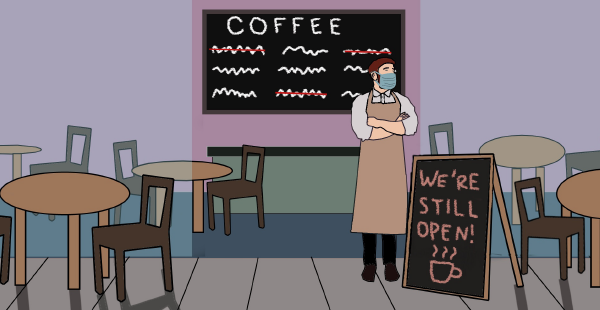 For senior Regina Papadatos and her family, who own local restaurant Plateia Mediterranean Kitchen, the COVID-19 pandemic has been detrimental for their business, as well as for their employees and overall sales. Papadatos expressed that due to the coronavirus, their restaurant has had to significantly change their hours and ways of serving their customers, which has been extremely tough on their business.
"We used to be super busy all the time, but now people are just scared to get takeout," Papadatos said. "Things just aren't how they used to be." 
Since the coronavirus lockdown in Illinois, Papadatos explained that restaurants have not been able to serve their customers in person through sit-down service. Currently, their restaurant only offers curbside pickup and deliveries. Since they are no longer able to offer sit-down service, Papadatos explained that her family's restaurant has had to limit its menu due to the dramatic decline of business.
"There's still a lot of options in our food and drink menus, we mainly just took off the things that are pretty intricate to make," Papadatos said. "The dishes that take longer to make just aren't worth it since our business is down so much."
Junior Katie Durow has experienced a similar dilemma with her job at Dunkin' Donuts. Durow expressed that her experience while working during the Coronavirus pandemic has been very different depending on which Dunkin' Donuts store she works at.
"Drive-thrus have been way busier than normal, which makes sense," Durow said. "However, the actual walk-in stores have been very slow."
Durow explained that although the environment and conversations she shares with their co-workers have stayed pretty normal, customer interactions at work have changed drastically. She expressed that most customers are very scared when having any interaction with their restaurant, and tensions surrounding the pandemic run high.
"Instead of dealing with customers who are so outgoing and friendly, a lot of them are frightened and just want to get out as soon as possible," Durow said.
When all non-essential businesses originally shut down a few months ago, Papadatos explained that a similar issue occurred amongst the employees; the majority of her co-workers filed for unemployment or just quit their jobs altogether simply due to the fear of getting sick.
"We really only have five employees including myself still working," Papadatos said. "A lot of our employees filed for unemployment, and whoever didn't does all of the carryout."
Although Durow has decided to keep her job and continue working multiple times a week during the shutdown, Durow expressed that it is pretty scary to go to work and risk exposure to the virus; knowing that she could risk her and her family's safety is worrying and stressful for her.
"Obviously, the risk is there, if you accidentally touch someone who has the virus you might get it and bring it home to your family," Durow said.
However, Durow assured that she and all employees at Dunkin' Donuts are doing everything possible to minimize the risk and ensure as much safety as possible. She explained that each location of Dunkin' Donuts has installed protective screens to act as a barrier in between the customers and employees if they exchange cash in person. Employees are now required to wear a mask and gloves at all times, which is a huge change from before the shutdown.
"During normal times, we'd usually just grab a donut with a piece of wax paper and put it in the bag," Durow said. "Now, we have to use our gloves and the wax paper to just put it in the bag, so we have extra precautions such as that."
As an employee at Plateia Mediterranean Kitchen, Papadatos explained that they have displayed similar actions to maximize safety for all customers and employees.
"We've always taken precautions, but now things are just so much more extreme," Papadatos said. "Now we bleach the counters and make sure that every doorknob, cabinet handle, and even pens are constantly wiped down."
Durow hopes that things will go back to normal soon, but for now, they just have to do all they can to make sure everything stays as safe as possible.
"This is going to continue indefinitely," Durow said. "Once things are safe, then we hopefully won't have to wear a mask and gloves all the time."