South's Queeva rises as young country star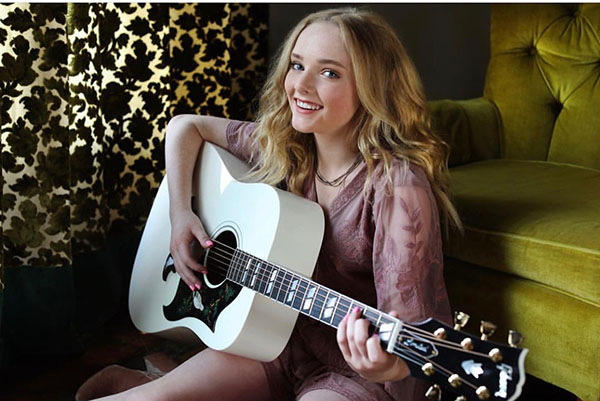 Caoimhe McDonagh, also known by her stage name "Queeva", stands backstage, completing her usual vocal progressions as she prepares to perform. McDonagh has been asked to be the featured singer on WGN News. Only 14-years-old, McDonagh is understandably nervous but gets her act together, as she remembers the lessons her coaches and family have taught her. This is a moment she has only dreamed of, and she is grateful for the opportunity. The last thought that goes through her head before she walking on set is how much she loves to perform.
Caoimhe says her love for music began at a young age, as her parents used to always play country music in the car when she was a kid. Caoimhe's dad, Coleman McDonagh, adds that his daughter's love for music was in large part due to their family being so oriented in traditional Irish music as well as country. According to Coleman, he realized she could have a career as a singer when she was just nine years old.
"We knew there was something special about her when she was very small, just how musical oriented she was at such a young age," Coleman said.
According to Caoimhe, she has already performed on WGN news in Chicago, the Today Show in Nashville, Tennessee, as well as a bunch of smaller stages in Nashville. According to Caoimhe, she travels to Nashville once or twice a month to record and perform.
"I really do enjoy [these trips], but they can be stressful coming back and trying to catch up on all the stuff I missed, but it's really fun [and] it's mostly enjoyable," Caoimhe said.
Not only does Caoimhe sing, but she is also an actor and has played roles in TV shows such as Chicago Fire. According to Maggie Malone, acting coach and talent manager, Caoimhe's acting roles have greatly improved her performance skills, and her music videos have further refined them.
"Every time she performs, every time I see her she gets better and better, and she works really hard and that's how I know she's going to be a success," Malone said.
Caoimhe says that Kelsea Ballerini is one of her musical idols and someone she looks up to for her singing tone and compelling stage presence. Malone says that, like Ballerini, Caoimhe genuinely enjoys what she does and works to spread a message.
"She wants kids to not have fear in walking out and doing what they want to do with their lives," Malone said.
According to Coleman, while his family currently live in Des Plaines, he hopes to move the family to Glenview by spring. He says this move will help Caoimhe in her musical endeavours by surrounding her with the best vocal and guitar teachers as well as other people who have experience in the music industry.
"Every time she plays I think it brings smiles to a lot of people's faces, and I think she's going in the right direction," Coleman said. "Hopefully she can keep chasing her dream."
According to Caoimhe, she has considered signing with a record label but doesn't see the need as of now. Caoimhe says she already has great managers as well as the opportunity to work with other people on songs.
"Before I approach any labels, maybe next year, I want to get my social media at a pretty solid level and have a good amount of music out, so I can have a good background before I approach them," Caoimhe said.
Caoimhe currently lives in Des Plaines, and this is her first year going to school in Glenview. Caoimhe says she doesn't mind the extra attention she has received since people at school have found out about her musical career. According to Caoimhe, it's a different dynamic because people watch her more closely, but that is not necessarily a bad thing.
"It's pretty cool because everyone at school is really supportive of me, and it's kind of crazy because I didn't think everyone would be so supportive," Caoimhe said.
Caoimhe says that five or ten years from now she hopes to be touring, spreading her music across the world. Malone says she believes Caoimhe can achieve her goals through the amazing support she gets from her family.
"I know [singing and acting] is something she wants to for life, and I believe she will be touring and have a record deal," Malone said.