Students pursue musical interests outside South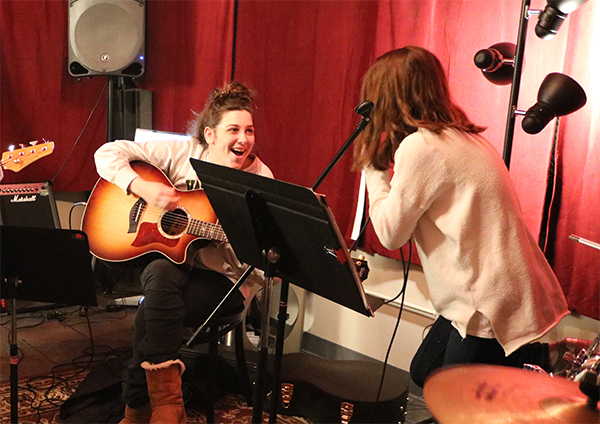 What to do: the usual weekend activities have grown boring, and although being a part of school activities such as choir and V-show are awesome, sophomore Emma Langas wants to shine on her own. For her, the answer is The Rock House, a Glenview coffee shop that houses live music and holds music lessons. Langas says performing outside of school has allowed her to meet new people and made her realize a band is the perfect compliment to her in-school commitments.
Similarly to Langas, junior Jordan Dahiya started at The Rock House doing open mics while she took guitar lessons there. Then, one day, she was asked to open for an artist, according to Dahiya, which opened more doors for her.
"[Music] is a super cool outlet, something to focus a lot of your energy on that's not school," Dahiya said. "It's something that you can be better at, which is a cool experience because it never ends."
For Langas, she was looking for more things to do than just school events because the musical she wanted to be in wasn't until the end of the year. Langas says she joined her band because it was recommended to her by her guitar instructor. While her teacher is from The Rock House, the band, "Next Week", performs in many different places, such as after 5k runs and at the Botanical Gardens, according to Langas.
"My favorite thing about [the band] is that we don't necessarily have to play the best to still have fun and make the crowd have fun," Langas said.
Junior Mary Isaac is also in a band, in which she plays alongside senior Lukas Oyarzun. She does this in addition to playing in the drumline at South. According to Isaac, her band has already played at many open mics as well as Battle of the Bands, and now they're looking to do more traveling in order to grow.
"I feel like if you create the band yourself with the people you know, like your best friends, it's more pure," Isaac said.
Dahiya, who sings and plays guitar, also wants to grow. Opening for Will Tullson, performing at Sid Rocks Unplugged in 2017, as well as participating in songwriter showcases and shows at Uncommon Ground is just the start, according to Dahiya.
"I've considered every single [in-school musical option], but as far as in school outlets, I feel like school is my break from music sometimes because, as much as I love [making music], it can start feeling more like a job," Dahiya said.
According to Langas, starting a band without the help of a place such as The Rock House is more difficult because it's harder to set practice dates and it's hard to decide people's roles without a mediator.
"Bands in the real world don't really function without a manager in the same way that it's a lot easier to function as a band when you have a teacher there to help you," Langas said.
A misconception about singing is that it's easy; however, Dahiya says that it takes a lot of hours of hard work. This is a good thing, though, because it teaches people how to manage stress, according to Dahiya. She also says that, although performing outside of school has been a big commitment, it's worth it in the people she has met and relationships she has built.
"I think performing has made me more versatile and confident, which has really prepared me for life after school in the skills I had to learn and interactions I've had," Dahiya said.