Student talents shine through ILMEA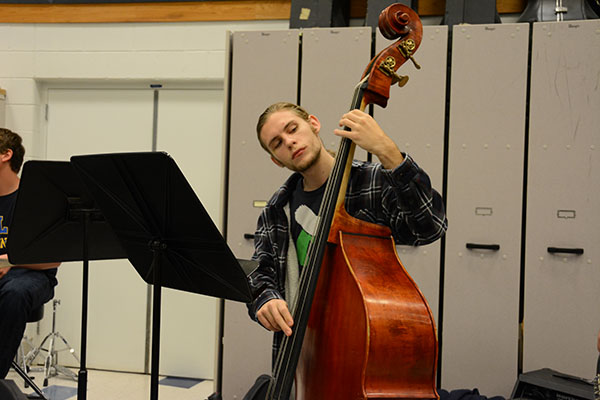 The room is quiet. A student and their instrument stand alone in front of a judge. The musician's heart is racing as they look down at the notes in front of them, take a deep breath, and begin to play.
Band director Aaron Wojcik says that 11 students from South were accepted into the Illinois Music Education Association (ILMEA) this year, competing against students from other top schools in the northwest suburbs of Chicago. Wojcik says that acceptance into the program is an honor across disciplines for high school students.
"To give you an idea [of the competition], in our flute room we actually had two flute players that were selected and that was out of over 100 people who auditioned," Wojcik said. "The flute room usually gets up to around 120 [students who audition]. That's 120 flutes that are auditioning for about 15 spots and the same can pretty much be said for each room."
Senior Matthew Baumstark was accepted into ILMEA for the first time this year. According to Baumstark, the pressure of performing in front of strangers was a challenge for him in the past and something he worked to improve upon for this year.
"As soon as you get into that audition room, where you know that there are people outside that are listening to you play and this judge is judging you and you only get one chance to do it, [it] gets pretty stressful," Baumstark said. "I freak out a little bit, [which I think was] a big factor as to why I didn't [make it] in prior years. I kept working, I got better as a player and I tried to forget about the stress."
Similarly, sophomore Stephen Jang says his heart was racing by the end of his audition. One part that Jang says he struggled with in particular was the sight-reading portion of the audition.
"You never, ever [get to] practice [the music beforehand] and I definitely didn't do as well as I thought sight-reading," Jang said. "A lot of the kids thought it was really hard to sight-read because the notes were difficult, everything was just difficult and the first time you see music you never know the actual song."
While senior Jack Sundstrom also found the sight-reading portion of the audition challenging, he says he believes the audition experience to be beneficial. Sundstrom was accepted into the most prestigious jazz ensemble this year, the jazz combo.
"It's a good experience to do the auditions," Sundstrom said. "The fear of having somebody judge you makes you practice. It's a good experience to have and if you [are accepted] it's really fun and you get to meet some awesome people and learn a lot."
Baumstark says that, once one is accepted into ILMEA, they then rehearse and perform in a concert alongside other accepted students. The concert is an opportunity for students to perform with new musicians, under the instruction of a new director.
"I think the concert is more for the players than it is to put on a concert," Baumstark said. "It's more for the players to practice the music and play with a really awesome ensemble than it is, 'hey we're having a concert, you guys should all come.'"
For athletes, making it to regionals or state is an accomplishment. Sundstrom says that being accepted into ILMEA is an equivalent measure of success for students in band. Sundstrom says he would encourage his fellow musicians to try out because one can learn a lot from the experience.
"It's a good way to meet people that are also good musicians," Sundstrom said. "It's really fun and I've met a lot of friends and musicians that I've played with through [ILMEA]."