Cardi B speaks boldly on Invasion of Privacy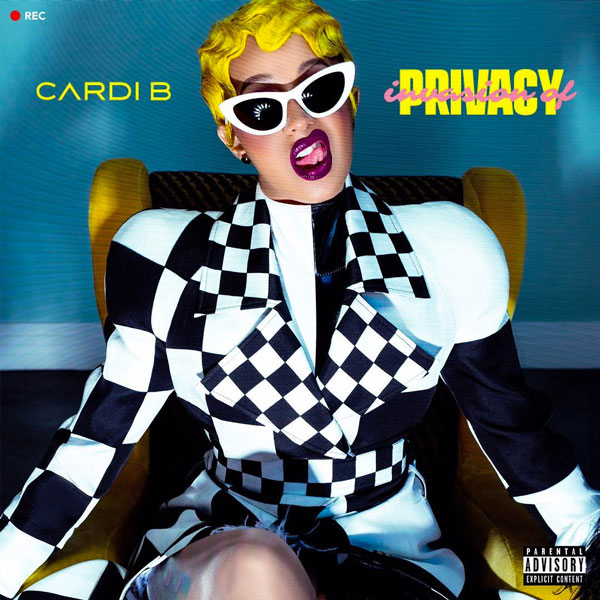 Cardi B's new album, Invasion of Privacy, has invaded much more than our privacy. Debuting at No. 1 on the Billboard 200 albums chart, Cardi B has proven herself a force to be reckoned with in the rapping community. As one of the most deserving, personal 5-star-rated albums my ears have ever been blessed with, Invasion of Privacy is ridden with jaw-dropping verses, bop-worthy beats and all the inclinations that Cardi B is here to stay.
B's opening song, "Get Up 10", is one of the most savage intros to an album I've ever heard, responding to her haters and disclosing her tumultuous journey to the top. She begins sofly, noting differences between her life before and after stardom. As the song picks up, it's hard not to get the chills. "Man, I said we gon' win/Knock me down nine times but I get up ten/Look myself in the mirror, I say we gon' win," she raps with authority, proclaiming that she isn't going anywhere.
The next song on the album, "Drip", is the perfect follow-up to B's intro. Cardi B's rise to fame no doubt has been partly catalyzed by Migos, whether it be her marriage to Offset (something other songs on the tracklist delve further into) or chart topping songs like "Motorsport" on Culture II, on which B was a featured artist. "Drip" is no doubt heavily carried by Migos, with a melody and beat that doesn't stray far from their style of rap, but B brings her own flow to the table, making it coincide with the vibe she established in "Get Up 10".
By far my favorite song on the album however, is "I Like It" featuring Bad Bunny and J Balvin, Puerto Rican and Colombian reggaeton singers. The combination of Latin American-style piano and trumpets mixed with B's classic trap beat gives me the chills. It's a dance-worthy track that makes me smile every time I hear it. Even though I can't understand a lick of it, the inclusion of two full verses of Spanish adds so much depth to the album; they make it stand out and show B's willingness to take risks with her music, something very few artists are eager to do.
The album, however, also has songs in which Cardi B raps about her relationships, namely with her husband, Offset. In "Thru Your Phone", B raps about the time she saw text messages on Offset's phone from another woman. "Be Careful" also issues a "warning" to her man, asking, "But is it worth the girl that you're losin'?" Both tracks show her sense of self-worth and ability to stand up for herself, even in front of her husband: a valuable and commendable trait.
Cardi B exits the album the same way she enters: savagely. "I Do", featuring SZA, highlights her desire to do as she pleases. In a world where every move of celebrities, artists or athletes is analyzed and criticized, B reiterates that nothing will stop her from being herself.
From start to finish, Invasion of Privacy blew me away. I had no idea what to expect when I first heard the album, and what I got was a hell of a lot more than I bargained for. I used to think that "Bodak Yellow", B's first single, was a one-hit wonder, but she proved to the world with her first studio album that she was so much more. Deservedly holding numerous records on billboard.com, B proves with Invasion of Privacy that she's here to stay.