Park wins first place in IHSAE's ceramics division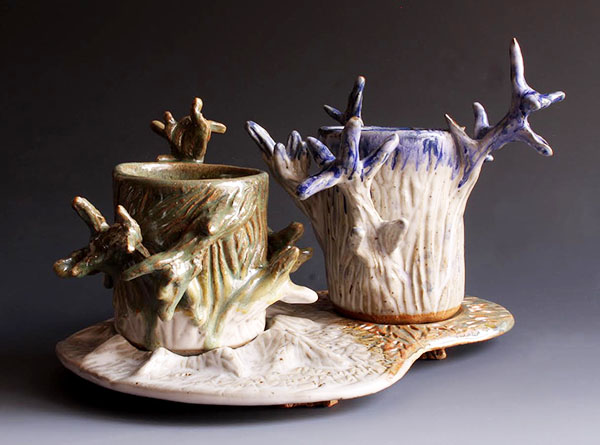 Two mounds of clay, rolled, spun, carved and glazed into two tree-bark-covered cups, sprouting with branches, complete with a grassy base. This piece, titled "Variety and Repetition Tree Cups and Saucer," created by junior Joanne Park, won first place in the ceramics division of the Illinois High School Art Exhibit (IHSAE) on Feb. 25. This competition receives over 2,500 submissions from around 500 student artists. According to Park, she won $100 in cash and $150 in gift cards.
Park's ceramics career began during her sophomore year, followed by a second ceramics class her junior year, in which she created her winning piece. Park says that, though she struggled in the early phases of ceramics, practice allowed her to shape and strengthen her skills. According to ceramics teacher Kurt Webb, Park's determination for improvement was obvious.
Webb said, "I think, like with any student, she was challenged and had difficulty. But the difference between Joanne and a lot of students is she persevered through that challenge. She didn't see that challenge and difficulty as a negative aspect of the class but as something she needed to supersede. She needed to go above and beyond that challenge … She wanted to get better and make meaningful, well-planned artwork. She did a lot of growing in a short period of time."
This piece, which includes themes of both variety and repetition, displays two cups, both of which are designed to resemble trees, according to Park. Park says that one of the greatest challenges with this piece was creating the branches, which start thicker and thin out as they taper out of a tree. Park says they require a perfect balance when molding the right size in order for them to stay attached to the cup without falling off.
"The cups have the same shape and they have the same amount of branches, but they were different because one of them was like a regular tree and one of them was like crooked and ugly and misshapen," Park said. "So they were on a base, and the base looks like grass and tree roots. The feet, which is what holds it off the ground, are like tree stumps."
According to Webb, Park's piece stood out among the rest because it was obvious that her work evolved from a completely thought out plan. Additionally, Webb says that the concepts of variety and repetition influenced her piece. According to Webb, her ability to build a three-dimensional version of a sketch established her skill level for ceramics.
"There was an idea beyond this piece. It wasn't just merely decorative, but the idea centered around the concept of, 'Variety is important in life and art, and repetition is needed within that variety in order to have unity and togetherness,'" Webb said. "She put those two concepts together with variety and repetition, which are principles of design."
This piece was selected to  be submitted to IHSAE by Webb, who recognized her skill in ceramics and wanted to give her an opportunity to compete  for art similar to how athletes compete in sports. Additionally, Webb explains that any submissions to IHSAE are beneficial because of their scholarship and program opportunities. According to Park, upon hearing her piece had been submitted, she was surprised, yet grateful for the opportunity.
"I was really excited that [Webb] saw my piece and chose it out of the hundreds that the other students [had] been making," Park said. "It's really exciting to know that the work that I put into this paid off, and I was kind of surprised because I didn't think [the piece] was absolutely amazing, I was just like, 'Oh wow, this is a pretty cool cup.'"
Additionally, Webb explains his respect for Park, as she demonstrated not only her handle on ceramics at the IHSAE competition, as well as her charisma.
"She's so well-adjusted," Webb said. "Here she was [at the art show] in a space that is unfamiliar, she's got her work out for thousands of people who were at that opening [to see] and yet she looked so comfortable. She was talking to people like she had known them for years, she was just talking to her peers, one on [each] side, she had never met before and was laughing and having a great time and I just think that was great."
Park explains that participating in this competition solidified her knowledge that the easiest way is not always the best. Additionally, according to Park, this was a reassuring and concrete recognition of her hard work.
"I learned to keep going with ideas no matter how hard it seems," Park said. "For a little while, I was like, 'Oh I don't really want to do this, I'm just going to make something easier so I'll be done with my project faster,' but putting in the extra time and effort clearly paid off."