South singer returns as new co-choir director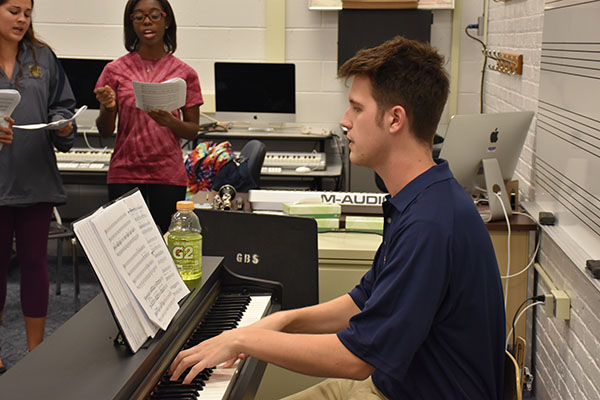 To return to one's hometown and teach the same classes that were so appealing years earlier is a rare feat, but it is one that Robert Shellard, new co-choir director at South, can relate to. Graduating from South in 2009, Shellard now fills the position in the Fine Arts Department, where he was heavily involved in South's choir group Chambers as a student.
"Even as a student, I was sort of taking those steps towards education that I wanted to be taking," Shellard said. "It's such a surreal experience to be coming full circle and be directing Chambers this year."
Shellard explains that the familiarity of South was a factor in his pursuit of a career and has helped contribute to his smooth transition within his first few weeks of teaching at South.
"I feel much more comfortable diving in headfirst here, whereas in other schools, sometimes it takes a while to get your bearings and to know who the other people are," Shellard said. "I haven't had too much of that here."
According to Zoe Golden, senior Chambers singer, the vulnerability that comes with singing makes Shellard's laid-back attitude appealing, as he is able to correct students while maintaining an atmosphere of respect and learning. According to Golden, Shellard first demonstrated his character at the Chambers Singers' first performance, which celebrated the anniversary of Jackman Park Bear on Sept. 15.
"[Our first performance] was definitely one of those moments where I could see a choir director getting upset that the work was not being respected or worried for the students because they might be freaking out," Golden said. "But he was very reassuring to us. He just smiled and told us with his eyes to keep going."
According to Golden, co-choir director Andrew Toniolo and Shellard work well as a team, each of them complementing the other's strengths as well as their weaknesses. With auditions for the All-State choir on the horizon, Shellard and Toniolo have demonstrated their strength as a team, Golden says.
"Working together to teach the music correctly and work on different tonal skills and just technical things … can be very stressful," Golden said.
"They're doing a very good job of helping the people who are auditioning learn the music, while also keeping it interesting for everyone else in the choir."
Golden explains that the juniors and seniors have experienced the many unique teaching styles of each past director, and despite any inconsistencies it might have brought to the choir department, overall, Golden believes it has strengthened the singers.
"Although I haven't had much insight onto what Shellard has been working on this year, I think he will be really good for dynamics of our
choir and really making the music move in a cool and interesting way," Golden said.
However, Shellard's relationship with South extends further than his history here as a student. His father, James Shellard, is a retired student activities director. Toniolo explains that he does not believe the Shellard name will hinder the development of Robert's own personal identity.
"I think that … the Shellard name is really loved around here and it can only be beneficial," Toniolo said. "Dr. Shellard, when he was here, was such a visible guy and known by so many people. I think people will come to know Mr.
Shellard as the choral director and not only that, but a really really awesome [director]."
According to Robert, choir is a great way to get connected with the other students in the Fine Arts Department. He explains that for him, choir offers opportunities to establish relationships and explore any possible passions.
"I see, in this building more than any other building I've been in, this passion for each other and for spirit and for service that South really has," Shellard said. "[I see] some of those intangibles that other buildings don't necessarily have, and that's why I'm excited to be back."