Lesser-known electives provide students with unique skills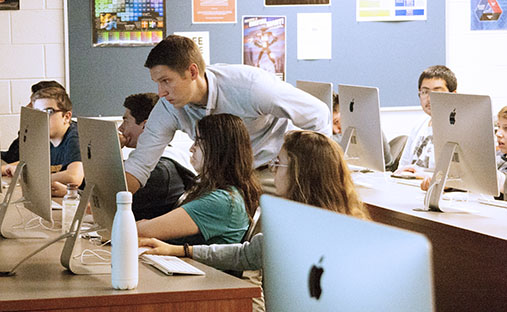 Foods, painting, business: what do these classes have in common? They are the electives GBS students know all about and the ones they are always talking about. What students may sometimes fail to mention, however, are electives such as Music Production and Independent Web Design.
According to Michael Macfadden, web design teacher, students in his class primarily learn how to code in CSS and HTML, the two basic languages that every website is built on. According to Macfadden, the skills learned in this class transfer over to a myriad of different real-life situations, such as creating a website or promoting a business online.
"These days, every career is impacted by the internet in some way, shape, or form, [and] having an understanding of the architecture of the internet will help you in a variety of ways," Macfadden said.
Macfadden says that one of the several projects worked on in the class is the "Bootstrap" project, in which students learn to build a fully-responsive website. According to senior Carson Paul, who took the class his junior year, this website-building project served as the final exam for the class and gave him the opportunity to put his skills to use.
"The final project was fun because we got to create our own website after everything we learned throughout the whole semester," Paul said. "We worked with classmates on that, creating an idea and then blowing it up into our own website that we made ourselves."
According to Aaron Wojcik, Music Productions & Technology class teacher, the intent behind his Music Production class is to teach students how to use softwares such as Logic Pro X, Pro Tools and Garage-Band to generate music on their computers. Wojcik says that the class was created to allow students with little to no musical background to improve their music- making skills.
"Most people think they need to have some sort of skill or ideas behind computer music, but really all they need is good ears, and everybody has good ears because they listen to music," Wojcik said.
According to Wojcik, the class offers several projects, including the "Create a CD" project, in which students gather all the projects and songs they have produced over the course of the class. Wojcik says that other projects include the "Fountain Sound" project, in which students record different sounds around the school and combine them into its own piece of work, and the "Radio Edit" project, in which students take a song and adjust it so that it is acceptable to be played over the radio.
"Each of the students bring in their own level of creativity, musicianship and taste in music, and it provides an endless supply of different and innovative music," Wojcik said.