Sheqiladze inspires others with photography, impassioned by Chicago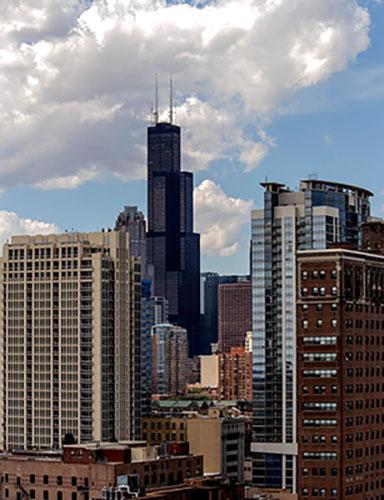 According to Photography Teacher Amie Elliott, a camera is essentially an eyeball. Similarly, senior Photographer Megan Sheqiladze says that photography is the art of capturing an exact moment.
Sheqiladze explains that she takes pictures in order to remember everything going on in her life. According to Sheqiladze, photography has the ability to take a person back to the time the photo was taken and view that experience from a different perspective.
"Beyond me, [photography is]  just a documentation of what's happening, what matters to people and what's going on in the world," Sheqiladze said.
For a while now, according to Sheqiladze, Chicago has been a place to depend on for creative inspiration. She thinks photography makes not only a personal difference, but also a worldly difference.
"I realized that I could tell stories through my pictures," Sheqiladze said.
According to Sheqiladze, when she goes into the city with her friends, she takes pictures in the spur of the moment. She says that way, pictures are nostalgic and sentimental.
"I don't really go into anything trying to capture a specific message, I try to find the message of whatever situation is going on [around me]," Sheqiladze said.
According to Sheqiladze, she has been finding inspiration not only in the people of Chicago, but in the culture of the city.
"Chicago is the place for photography, hip hop, and art," Sheqiladze said.
Elliott says that [Chicago's culture] has been a theme of Sheqiladze's work. She says that Sheqiladze has taken great advantage of the city.
"She comes back with work that nobody else has," Elliott said.
Sheqiladze says that she is particularly tough on her own work. But, after all the work she puts into a shoot, she gains reassurance when she gets helpful feedback.
"When people actually take an interest and want to give me advice, that's the best feeling ever," Sheqiladze said.
Elliott believes that in addition to feedback, it is important to connect with where photography originated in order to truly appreciate the art.
"With those processes there is a craftsmanship, there is an artisanal feel to it that isn't there with the digital," Elliott said.
Sheqiladze says that she is inspired, yet finds herself getting held back by the intimidation of other young artists involved in the underground Chicago scene. Despite her fears, she says, she continues to capture important moments before she goes off to college.
"I can make my own art while helping other people make art and while capturing people make art, so I really wanted to make photography my job," Sheqiladze said. "[…] I'm trying to figure out what I want in life right now."
According to Sheqiladze, she has always loved the art of photography and it remains a vital aspect of her life.
"I don't know where life will take me, I'm not certain of anything, but I am sure I will always be taking pictures," Sheqiladze said.