"Kinky Boots'" choreography, humor dazzle in star-studded production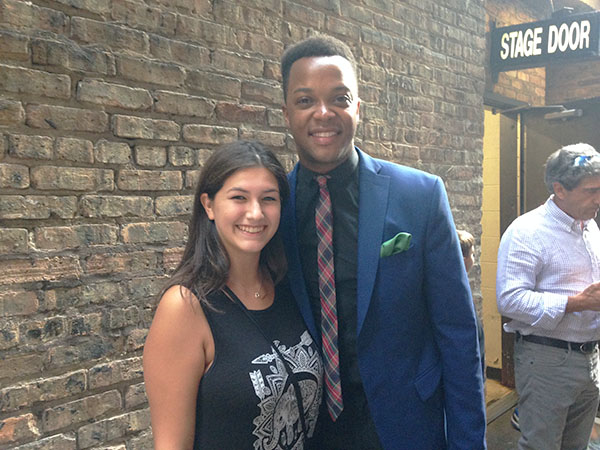 "Welcome ladies, gentlemen, and those who have yet to make up their minds," greeted the cast of Kinky Boots. In a society beginning to push against gender binary language, this upbeat, modern musical blasts through the doors of LGBT+ controversy. Unlike the classic songs, sets and characters one imagines when thinking of Broadway, Kinky Boots defies standards by bringing a 21st century look to today's culture.
Set in England, the show begins with a man named Charlie Price whose father suddenly passes away. Forced to save his family's plundering shoe business, he meets Lola, a 6'4" black drag queen with a personality sparklier than 24 carat diamonds. Together, the unusual duo crafts a shoe platform of stilettos for men, hoping to showcase them at the Milan fashion show. As the characters work towards Milan, they face their hardest obstacle of all: accepting themselves and each other.
Kinky Boots brings light to one of the most controversial social topics of today: LGBT+ rights. Although some productions may shy away from this disputed issue, Kinky Boots' humorous yet honest portrayal of the life of a drag queen makes an initially difficult topic easy for everyone to understand. It aims to educate people of all ages that LGBT+ rights begin with acceptance.
Another theme highlighted by the plot of Kinky Boots is the idea of judging a book by its cover. As each character is confronted with different obstacles, they are forced to rely on each other to fulfill their goals; however, ingrained in stereotypes, they find it difficult to trust one another. Demonstrated brilliantly by the script and score, Kinky Boots creates dynamic characters that surpass biased expectations, proving that everyone deserves a chance to be seen as an individual rather than as an anonymous member of a group.
Along with its relevance to today, Kinky Boots is an artfully done production. With a balance between hilarious and serious themes, it creates a lively plot. The music matches the style of the show with its rapid tempos and contemporary lyrics.
Complementing Kinky Boots' score, the choreography is astounding. You will never meet a man who can dance in six inch heels better than those in Kinky Boots, such as J. Harrison Ghee as Lola in the traveling ensemble. The way the cast uses the set, specifically by dancing on a conveyor belt, highlights the actors' talents. And to further emphasize its modern dialogue, the diversity of the cast parallels our interconnected world.
Although not many of us share Lola's drag queen lifestyle, Kinky Boots discusses common themes of family, loyalty and love that forms a connection with everyone. In the three hours of flashing lights and sequined dresses, you become caught up in a whirlwind of equality, acceptance and red leather boots.