Weezer's self-titled album embodies love for West Coast, classic vibes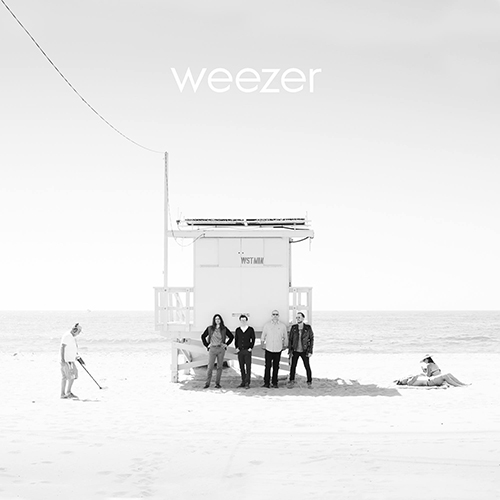 I've been backstabbed before. Being a fan of the alternative artist Beck myself, as I looked through albums new and old, they would either treat me to perplexing, fresh songs I loved or, with the release of his EP Dreams, slightly more conforming music; the new music was stripped from Beck's rustic, alternative roots. The drums, slide guitar and odd lyrics were now far too upbeat and pop-y for my taste.
After Beck's disappointing EP, when Weezer released their song, "Thank God For Girls" over the summer, I was nervous. Paired with their announcement of their upcoming self-titled album, Weezer, I was expecting the rest of the album to destroy the hope I had for the band, just as Beck did. I was afraid that their alternative rock would be turned into something foreign to me, with all of my excitement crumbling down around me.
Instead, my faith was rewarded with an updated version of Weezer's signature sound. While Beck had seemingly changed his sound, Weezer had further built theirs. The album reads classic Weezer persona but keeps fans satisfied with fresh, evolved music.
For myself, part of the initial appeal to Weezer in the past was their adventure through youth. With famous songs about hoping to make it to Beverly Hills or music videos full of allusions to YouTube hits, not only were the songs easy to rock out to but distantly relatable.
The album, which fans have dubbed "The White Album" based on the color-themed names of previous albums, felt right. "California Kids" came off as instantly enjoyable upon diving into the album. From lyrics to cover art, the band especially makes their love of the West Coast known, with "California Kids" being a prime example.
Like traditional Weezer, songs from "The White Album", including "California Kids", keeps the heads of listeners bobbing with their songs built on heavy power chords. Guitar solos maintain their simple charm, which is something to admire in my book. The power chords, little guitar riffs and vocal harmonies that may or may not be the correct pitch made me initially love the band, and nothing felt better than to have those aspects back and better than ever.
Out of the songs on the album, "L.A. Girlz" was an instant favorite. It starts off with a gut-busting string of power chords that pumps you up instantly. The lyrics, especially the first verse and chorus, were easy to listen to and just as catchy.
Lead singer Rivers Cuomo's voice and lyrics haven't changed a bit, but the West Coast theme is certainly relevant. Per usual, the new album features songs with fun, playful lyrics, with the opening of "Thank God for Girls" talking about how you are packing cannolis for your hiking trip with the guys. The band retains their classic harmonies over lines about the beauty of California and their love for Los Angeles girls.
For those interested in music videos, a few were released with modern, beautiful results. "L.A Girlz" features a young Cuomo sending snapchats to his love, and "California Kids" ends with a cameo from Daniel, our friend with the white Vans. For the fans like myself who adored Weezer's old music videos, the new ones are incredibly well-crafted and did not disappoint.
It was refreshing to hear and see Weezer doing what they love the most: having fun. From the "Thank God For Girls" music video featuring a mustachioed man devouring a tray of cannolis to "King of the World" describing taking a bus to escape to the Galapagos Islands, their signature, high-energy rock sounds best when the band is hyped for the music they're making.
That being said, keeping close to what they do best does draw a slight bit of concern. "Endless Bummer" has been compared to an old favorite Weezer hit, "Island in the Sun", which means the song is easy to listen to but resonates awkwardly.
Even with that, a new album means more tours and an opportunity to hear these new songs with Weezer's live twist. From the snippets of cell phone video of their performance in Amsterdam, their energy leaves me incredibly excited for the band to come to Illinois on their trek around the country.
Overall, with Weezer's past success in my musical heart, the album has done the band justice. Within days of listening to it for the first time, I couldn't help but eventually memorize lyrics and learn the chords behind the songs that were stuck in my head.