This 'n That Coffee House brings mellow performances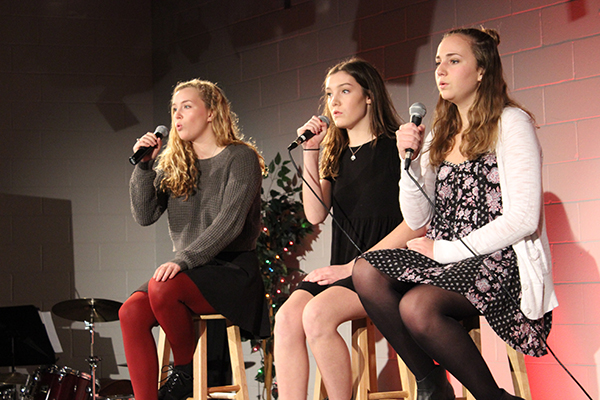 This 'n That Coffee House is an event that transforms the small South choir room into a chill, coffee house ambiance. It's an event hosted for the second time by GBS vocal jazz group, Scat That. The event took place on Nov. 19. It welcomed all performers into an acoustic atmosphere, according to Andrew Toniolo, one of This 'n That's sponsors.
This 'n That was originally created when Toniolo and Martin Sirvatka, both teachers in South's Music Department, realized Scat That lacked performances for themselves until the Variety Show, according to Toniolo. However, it was soon made clear that a concert with only performances from Scat That would result in a very short show. Therefore, different acts were then recruited to audition, which then allowed all students to participate, according to Toniolo.
Junior Grace Cepeda, who performed at This 'n That, has been in choir since she was a freshman and said this event is very different than other performances.
"It was originally intended for people who aren't in extracurricular groups, for people who really don't get a chance to shine," Cepeda said.  "Because sometimes in the choir department, it's easy for the same people to get solo, after solo, after solo."
Junior Adna Mujovic, who has been involved with the Coffee House for both years, agrees with Cepeda.
"I know there can be a lot of exclusion in our school because we have so much talent and it's hard to cover every single person," Mujovic said. "So having that one more opportunity throughout the school year, where I get to hear people I don't normally hear, makes me feel very grateful."
This 'n That is a mix between an open-mic night and a variety show, according to Sirvatka.
"It's similar [to the Variety Show] in that they come up with their own acts and they rehearse themselves until the very end [of their rehearsal time]," Sirvatka said. "It's smaller in scope, a little more intimate, a little more coffee house-like."
However, unlike the V-Show, This 'n That is solely acoustic and soft spoken music, according to Cepeda. She adds that the show is a very laid-back environment, which differentiates it from other performances.
"It's definitely not a heavy, hard, rock concert or anything because it is more of a coffee house vibe," Cepeda said. "So if you like acoustic music or if you like more soft-spoken, more kind of down to earth music [you would enjoy the show]."
Also, unlike the V-Show, This 'n That is a smaller experience altogether, according to Cepeda.
"Here, it's not as much of a production," Cepeda said. "Students are given a lot more freedom. So, [Sirvatka] kind of just let's us do what we want with a song."
The show itself takes place in the choir room, where baked goods and coffee are offered, according to Sirvatka. He describes the room resembling a small coffee house, with round tables and electronic candles. According to Mujovic, the atmosphere is the best part.
"My favorite part of the event is how they transform the choir room," Mujovic said. "They add different colored lights and dim everything else and have little snacks, and I just love the environment it gives."
This 'n That is described as a very inviting atmosphere, according to Cepeda. She explains how, as a performer, she feels less pressure than she might in a larger show, such as the V-show. Mujovic agreed and said that it's a more fun environment.
"It's a great opportunity," Mujovic said. "It's also really low-key, so there isn't high pressure in terms of performing. It's not really formal if you're thinking of attending. It's a very chill environment."
Sirvatka agrees with Cepeda and Mujovic, adding how the intimacy of the room adds to the overall experience.
"It's just a great opportunity to sing and to perform in a safe environment," Sirvatka said. "But it's just really cool because the audience is kind of close, you can see them. In some ways it's a little scarier than on a stage, because you can actually see the people you're singing for."
The show is limited to a maximum of 90 minutes, and was divided into sections, according to Toniolo. He explains how in each section, there was an introduction, followed by four acts.
"Scat That […] kind of hosts it," Sirvatka said. "So they come out and sing a number, [and] they introduce particular numbers. Then, after the whole thing is over, Scat That comes back out on stage and sings two numbers themselves."
Being in choir is unnecessary in terms of performing or attending the show, according to Sirvatka. He acknowledges that this is beneficial for the choir department in terms of finding talent not yet a part of choir and possibly recruiting said talent.
"We look [in the auditioning process] for the [opportunity] for them to be successful," Sirvatka said. "It might not be perfectly polished, but we see potential and then we kind of coach them and [help them] grow through the process."
Toniolo explains how the individual or group of students prepares an almost-perfect act, then partakes in an audition, which is followed by a coaching session with either Toniolo or Sirvatka, which is a technique also used in the V-Show.
"We try to help them become more confident in their performance aspect," Toniolo said. "We aren't looking for people who have constantly performed since they were five, we are looking for the people who are iffy about the whole thing."
Toniolo's advice is that this event should be viewed as an experience.
"You've got nothing to lose," Toniolo said. "It's only going to help you. It's for the nervous people. It's for the people who are on the fence. The people who love to sing music at home, or by themselves, or with a brother or sister, but might be just […] slightly nervous about singing in front of a room full of a hundred people. That's exactly what this is for."
Sirvatka commented that the great thing about this event is the ability it gives him to invite new students into the choir department.
"There were several people [who performed] that we had never seen before, and now we're going to see if they'd be interested in joining our choir department," Sirvatka said. "[The performers] are really talented and creative although they didn't have a lot of experience performing, and we had to teach them about that. They were still really talented kids."