Select South musicians chosen to perform in ILMEA festival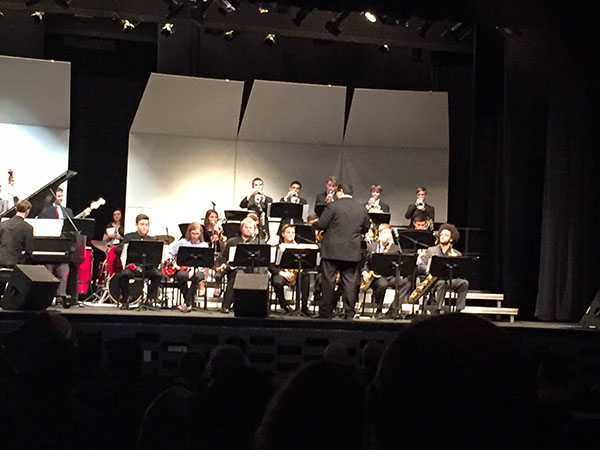 Each year, South sends a group of musicians to represent the school in band, orchestra, choir and jazz in the Illinois Music Education Association (ILMEA) festival. Musicians gather in the thousands to try and make the cut, but only a handful are chosen to represent their schools in the festival.
According to Band Director Greg Wojcik, the festival, which takes place in November, features several types of music from jazz to classical choir in which students perform under the direction of college professors and professional musicians. Wojcik claims that out of the nine districts in Illinois, South's has some of the most competitive musicians.
"We're the toughest district in the state of Illinois," Wojcik said. "Our district, district seven, is really a tough district with a lot of fine players. We were only seven districts before but they re-divided [Illinois] […] and if you got one student in it, you were lucky."
Flutist Cassandra Huerta, who made ILMEA in the symphonic category, claims the most important part of the audition is preparation. According to Huerta, students receive prepared music in advance, but must know it well in order to succeed in auditions.
"There are a number of strategies that you can use [to practice]," Huerta said. "I practiced maybe once a week, every week of the summer […] and then I would play my other repertoire every ​day, but I would run through [the ILMEA music] once, just to have it under my fingers by the time the audition came around. In the weeks before the audition, I would practice it slowly and then speed it up and do it once a day three weeks before."
Upon reaching audition day, trumpet player Matt Grinde claims the hardest part of the entire event is the mental aspect. In accordance with other ILMEA musicians, being nervous had the greatest effect on their audition.
"Nerves. Nerves are your worst enemy," Grinde said. "I've tried out for four years and every year nerves have to be the most impactful part of your audition because if you go in there and you're nervous, even if you know all of the music, you can completely mess everything up."
Upon earning his spot in both classical and jazz choir, tenor Michael Kirby conquered his nerves during auditions. According to Kirby, doing well on the audition to make ILMEA was a musical goal that he finally was able to meet.
"I think it's a big step of respect," Kirby said. "People can look at you and see you as someone who takes what they do seriously and someone who is very good at what they do."
Echoing this sentiment, Grinde expressed the privilege of being in ILMEA, which in district seven is known for their critical auditions.
"Just being able to be in part of ILMEA, especially being part of jazz and classical, is a huge accomplishment for me and I'm really honored to be able to do that," Grinde said.
Victor Bienko, alto saxophone player, attempted to make ILMEA again after hearing about it since 5th grade. Despite not making jazz ILMEA this year, Bienko still claims it is important for musicians to try out for the festival regardless.
"If you're an above-average player, don't be hesitant at all to try ILMEA," Bienko said. "If you end up making it in, it's such a great experience and if you don't make it in, there's no cost to not making it in."