Students transform hobbies into prospering businesses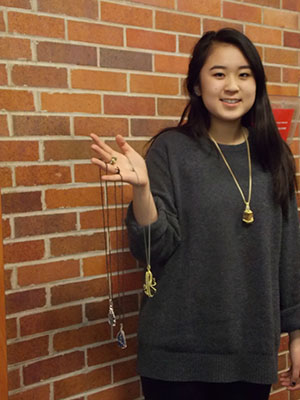 HWA OH, Staff Reporter
February 6, 2015
From simple pieces of material to an intricately designed product, many GBS students transform arrays of supplies into masterpieces to sell and share with others. These students combine their talent and dedication into small businesses driven by their passion and joy.
Junior Alice Song, polymer figurine maker, said, "The best part is just the feeling that you get to share what you did and what you have as a talent to another person."
Since she started making figurines consistently last year, Song has hand-made and sold various fictional characters such as Rapunzel from Disney's Tangled, Mulan from Disney's Mulan, Voldemort from Harry Potter and Kirito from the anime Sword Art Online. Ranging from $5 for smaller items such as earrings and charms to 120 dollars for intricate, one-foot tall character models, Song's business has attracted customers from her sites on Etsy, Tumblr and Facebook. However, her successful business also has its difficulties, according to Song.
"While I'm making something, sometimes I don't know where they're from so… if I'm making Rapunzel, I'll watch Tangled and I'll kind of move those memories into the doll," Song said. "I watch the movie and the process of it because it gives me a stronger feeling."
Having to be meticulous is just one of the challenges to be overcome by the owners of these small businesses. Junior Ivy Zhou, wire-wrapped pendant designer, faces hurdles when mistakes cause dire consequences.
"I think it just gets frustrating sometimes, especially when you mess up and you have to start over, and you have to throw out all this work you did," Zhou said. "Sometimes, I get a mental block because I like to draw out my designs before I make them just so that I kind of have an idea of what I'm doing."
The feeling of frustration is followed by joy after a pendant is completed, as when she made her first pendant, Zhou said.
"It probably shouldn't have taken three hours but it was the first pendant I ever made so it took a little longer — I made it for… one of my best friends," Zhou said. "He was just so happy about it. That was just a great feeling; he was just telling me [that] it looks beautiful and that he wears it all the time."
Zhou began making wire-wrapped pendants in October 2014 and has created pendants with various stones such as labradorites, moonstones, quartz and tourmaline. In what became an unexpected business through a hobby, Zhou has sold some pendants for 40 to 50 dollars each and also works on custom designs.
Similar to Zhou, sophomore Morgan Kritzman's cake pop business, MK's Pop of Cake, was an unforeseen occurrence.
"I made cake pops for [my family friend] the first time [when] she had a pig roast and there was 200 people there," Kritzman said. "I think I made 125 cake pops and people from her neighborhood were contacting me."
Kritzman's business has sold its cake pops to Bar/Bat Mitzvahs, birthday parties and other celebrations, selling around two dollars each. Catering for large events requires Kritzman to make around 150 cake pops, which requires large investments of time and work. Kritzman self-taught herself to make cake pops for the first time in the seventh grade.
"The first time I made them, actually, the cake was falling off the stick," Kritzman said. "I was devastated; I wanted to make them so bad so my mom took me to Dunkin' Doughnuts and we got donut holes. Then I was telling people that it was cake, but they all knew it wasn't cake."
Like Kritzman, freshman Kayla Kraft never thought she would make a business, Krafty Heart Pillows, out of sewing.
"At first I hated sewing, actually, but then it was my mom's birthday and I wanted to make her something special," Kraft said. "I made her a heart and she loved it so much."
Kraft, who started making pillows in 2012, makes stuffed animals and pillows with various designs. She has sold around 35 pillows to an acupuncturist who needed pillows for his patients to rest on for approximately nine dollars. Kraft has made approximately 650 dollars from her business and seeks to publicize her business further through Instagram, Twitter, Etsy and Facebook.
"I want to be more known so that people know about my business more," Kraft said. "[I want] to spread happiness."
These businesses do not necessarily reflect the students' future dreams. According to Kritzman and Kraft, their career aspirations are to become a marine biologist and an actress, respectively. On the other hand, Song's business reflects her aspiration to be in the art field along the lines of a game designer or an animator.
Despite future career goals, Kraft says that she doesn't make pillows for the money, but for her own personal experience and the satisfaction they bring to her customers.
"It's not necessarily, for me, if I make money; it's more about the people who buy [my pillows] who are happy about it," Kraft said. "That's basically what makes it successful for me."