Rock House café blends concerts, coffee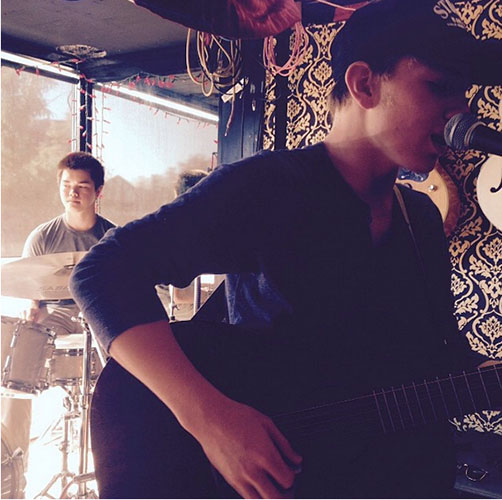 "50 percent school, 50 percent café, 100 percent original." That is what sets apart the Rock House Café from other mainstream coffee houses, according to the Rock House's website. It's a music venue that serves café foods and beverages while creating a relaxed, musical ambiance. With one location in Wilmette, another Rock House is set to open in Glenview in November.
Tyne Lowe, a barista at the Rock House in Wilmette, believes that the owners work towards keeping an enjoyable atmosphere for both customers and staff.
"It's actually really fun, and I enjoy it a lot," Lowe said. "It's nice to be in an environment where the owners and the managers are all really passionate about [what they do]. They're really driven to produce the best product possible and to improve as we go.  So, it's nice to feel like we're all on the same team."
With a stage for local acts to perform, junior Sarah Hill believes that the Rock House provides an intimate atmosphere for both performers and audience members alike.
"The [Rock House] is small enough that the performers can easily interact with you," Hill said. "The lights and overall ambiance just gets you in the mood to cozy up with a cup of coffee and listen to some good music."
Hill recalls her first time visiting the Rock House, an accidental stop that she made on her way home from another restaurant.
"I was out to lunch with my mom and a friend at Gilson's restaurant a couple store fronts down from the Rock House a few summers ago," Hill said. "While we were leaving, we just heard music playing and followed it. I was so amazed with the place the first time I saw it. There was a guy playing the standup bass and a guy on the acoustic guitar practicing for their show later."
Lowe says that the Rock House has an ambiance that appeals to any customer.
"[The atmosphere] is laid back but still very professional," Lowe said. "[The theme is] rock and roll […] It's a nice place to be if you're younger and if you're older. […] I have yet to find someone who looks particularly out of place here."
From a performer's standpoint, junior Tina James appreciates that the Rock House doesn't discriminate against music genres, despite the implications in its name.
"They have everything from country to rock to pop to blues," James said. "You name it, they play it. […] [For] anyone who wants to play and get their voice out or their songs out, it's the perfect place to go. They accept everyone."
James commented that they've become a unique venue in the North shore  area by allowing local artists to perform.
"The fact that I got to perform there [became memorable] for me just because of the crowd reactions," James said. "It was cool to play my stuff and show everyone who I am and get to see the crowd's reactions up close and personal."
According to Hill, it's a very inviting and fun café. It goes above and beyond to try to entertain and be different.
"Their tip jars are always two different mugs that have two bands/artists that you can vote for, which in itself is fun and makes you want to tip. You want to contribute, to put your opinion out into the scene, "Hill said. "They even have toys and candy in the back corner. Like, what kind of coffee place has candy? It's awesome!"
Overall, James said that the Rock House doesn't win its appeal because of its inclusion of music alone, but the atmosphere it has and, of course, the coffee.
"[The best feature about the Rock House is] the coffee," James said. "[…] and also the atmosphere and what the place looks like [is] family-friendly, [and it] appeals to teenagers as well. It's an awesome place to hang and chill and listen to music, it's also a [great] place to go to study. It's not too big or too small. It's made for a really cool vibe that you don't really see anywhere else."
The Rock House is also a music school. It offers a variety of instrumental lessons ranging from guitars to keyboard. It all adds to the atmosphere of the café and, according to the Rock House's website, their student performances are "the back bone of the program."
"Music was meant to be played; not  [just] read," the Rock House's website says. "That's the guiding principle that drives our technique.  You will learn your instrument through the songs you  like.  Our goal is to take you from beginner to the stage as quickly as possible, because we believe that's what it's all about."
The Rock House hosts events as well. Some upcoming events are "Family Fun Night" tonight and "Open Mic Night" on November 20.