Tisch expresses love of music through South programs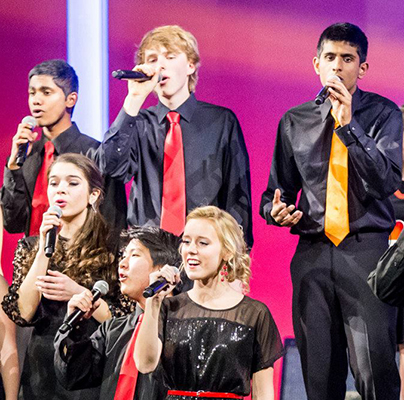 At South, the center of Paul Tisch's world is the west-most wing of the school: the auditorium stage, the choir room and the hallways lined with private practice rooms. Tisch is heavily involved in the Music Department and performs with Nine, Chamber Singers, Scat That! and Master Singers. He is also a musician in his own right by playing guitar, piano, composing his own music and playing in a band called The Accountants.
At a young age, Tisch began his musical training when parents enrolled him in piano lessons at age 6. He picked up the guitar in the second grade, this time of his own accord.
"My parents kind of got me started on piano," Tisch said. "I didn't really like it at first, but now I've grown to appreciate all the years of piano education."
Over the years, Tisch developed his musical skills to the level they are at today. He is able to apply his years of training to a band known as The Accountants, which he is in along with senior Chris Neuhaus. According to Tisch, the band is generally alternative rock, and all of their songs are original compositions recorded at his house.
"I write music on my own, and that morphs into songs I write with [Neuhaus]," Tisch said.
One impressive skill of Tisch's is his ability to write music in different time signatures. Most rock music uses a basic 3/4 or 4/4 time signature. However, Tisch is able to write music in uncommon time signatures such as 7/8 and 5/4. According to Tisch, he was inspired to learn this ability by the math rock genre.
"It was something I got into a lot last year," Tisch said. "Different time signatures like 7/8 and 5/4 can have an off-feel that can be really cool."
Tisch takes pride in his musical talents and enjoys public performance. According to Tisch, his favorite performances are when he sings with Chamber Singers at Hackney's by walking around the restaurant and singing to patrons as they eat. He also loves to perform with bands at Jamnesty, an annual human-rights-themed April concert .
"I love Jamnesty so much," Tisch said. "It's like Battle of the Bands, but there's no competition. Battle of the Bands is awesome too, but Jamnesty is just like hanging out with other musicians and supporting each other and having fun."
South music teacher Marty Sirvatka teaches Tisch in music theory, Master Singers, Nine and Chamber Singers. Sirvatka has known Tisch for four years and has taught him for three years in music theory. According to Sirvatka, over the course of knowing Paul for multiple years, he has been able to see how Tisch has progressed as a musician.