Right Amount of Wrong strums the right chords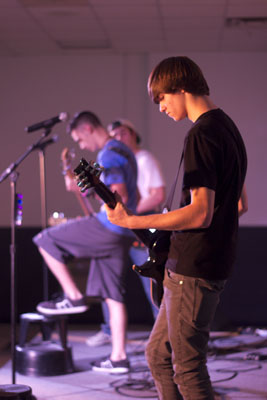 It's a small crowd. Eyes closed, they see sold-out arenas. With big dreams and high hopes, Right Amount of Wrong (RAW), a pop-punk band made up of four sophomores, begins to play.
Though the venue is small, the band still gives it their best effort, riling up the crowd before each song and putting all of their energy into the performance. The band consists of Joey Legittino on bass/vocals, Clayton Nimz on rhythm guitar/vocals, Andrew Mitchell on lead guitar and Evan Stroud on drums. Coming together only in the past summer, the band is still in its early stages.
"We just decided to jam," Legittino said. "It actually just started as a three-piece band, with Clayton, another drummer and I. But that drummer had things to do. Then we got Andrew and asked Evan to fill in for a show, and he ended up just staying with us."
RAW is not the first band that each member has played in. According to Nimz, he and Legittino were a part of a band from eighth grade going into their freshman year that Legittino left due to creative differences.
According to Legittino, he then joined a band known as Spit the Dummy that Mitchell was a part of. After that band broke apart when two members quit, Nimz and later Stroud were added, and RAW was formed.
"People have asked me to play drums for a recording or for one [show] but never to be in the band," Stroud said.
All of the band's music is original and written by each of them as a collaborative effort. According to everyone in RAW, their process for creating a song starts off with a guitar riff from Mitchell that is used as a basis and a building block for the other components in their songs.  Legittino and Nimz then add their respective roles to the mix which is capped off with Stroud's drums.
"I just play around on the guitar and something comes," Mitchell said . "I play random stuff, and if it sounds good, I keep it and work around it, play with it a little bit."
Each member's creative thoughts have been influenced by bigger musical acts that cover different genres which helps add to their overall sound. Mitchell is inspired by the metal band Alter Bridge. Legittino and Nimz are heavily affected by pop-punk bands such as Blink-182 and The Wonder Years.
"They're all really musically gifted and good at their instruments [The Wonder Years]," Nimz said. "Also, I like the upbeat feeling of their songs."
Stroud idolizes a famous musical figure who is not known for his skill on the drums. He looks up to famous guitarist Jimi Hendrix, and according to him, likes him due to Hendrix's charisma.
"The way he played music, I'm just attracted to that sound," Stroud said.
The band's synergy and skill doesn't come without practice. According to Stroud, practice takes place at his house in his basement,  and they practice two to three times a week for at least four hours per practice. Practices consist of perfecting their performance of already written songs and composing new music.
"We play until the song is perfect," Legittino said. "Each song we write is better than the last."
A good relationship within the band helps them create music and perform well together.According to each of them, they are as close as siblings, and they could never see themselves breaking up.
"Man, [the band breaking up would be] like taking away my brothers," Nimz said. "For us to break up there would have to be something terrible to happen."
Going forward, the members have dreams to make it as a band but intend to go to college and acknowledge that they need plans if RAW doesn't work out. According to Nimz, he wants to pursue a career in medicine while Stroud said he wants to be an engineer. Legittino expressed interest in staying as close to the music industry as possible.
"I want to go into law," Legittino said. "I want to be an attorney in music, checking over record deals and contracts."
Though they acknowledge that the band may not work out, their aspirations outweigh their doubts. According to the entire band, they don't want to give it an expiration date. Even if they are relatively new, RAW has nothing but optimism for their future.
"I see us going up from here," Legittino said. "I don't see anything going downhill."