Cast of winter play grows closer over dedication to theater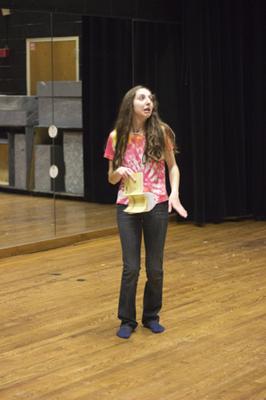 The actors peer into their script books, trying to recite their lines just as their characters would. Each pause holds significant meaning, something they've been working hard to perfect. This is a typical rehearsal for this year's winter play, "Circle Mirror Transformation."
"Circle Mirror Transformation," showing in the Lyceum Jan. 24-26, follows the lives of five people in an adult acting class. Through seemingly harmless games and broken hearts, the characters learn important life lessons. According to Director John Knight, the unique performance space, along with other unique qualities will help enforce these ideas.
"The play is set in a drama class," Knight said. "[The drama dance room] is our drama class. If this were real life, that's where this would be happening. That's where the people would take the class. So rather than try to duplicate the drama room with mirrors, we already have one. What it also allows us [to do] is to be really intimate with the audience so the audience will be on top of the action."
Another unique quality in "Circle Mirror Transformation" is the writing style of the script. According to Student Director Robert Poyser, each type of silence has a specific amount of time allotted to it. For example, when "pause" is written in the script, the actors must wait two seconds before continuing their line, whereas if "long pause" is written in the script, the actors must wait four seconds.
"[The cast makes] the silences as meaningful as possible because silences are just as important as dialogue is," Poyser said.
Junior Alessandro Berto, who plays the character Schultz, said he experienced some difficulties during rehearsal because of the script's unique writing style.
"I think my pauses are more difficult than my lines," Berto said.
According to South's drama website, throughout the plot of "Circle Mirror Transformation" the characters form relationships with their other classmates, grow emotionally and experience every-day life problems. Sophomore Michael Sarov, who doubles with Berto on the part of Schultz, feels that because this year's winter play showcases "five real people," it has a very distinct theme.
"I definitely think the theme is realizing who you really are and taking the bad stuff and trying to change it into good stuff because each character in the show is individually, hence the name, transformed into a different person by the end," Sarov said.
According to freshman Jordan Zelvin, who plays the acting class' teacher, Marty, through practice, random ad lib and other games, the cast has had a lot of fun preparing for the upcoming show.
"It isn't all work and no play," Zelvin said. "Obviously we goof around a little. Okay maybe a lot. In the last rehearsal I ended up on somebody's shoulders and somebody else ended up on somebody else's shoulders and we were trying to see who was taller. It just got crazy."
Zelvin believes that because the cast is so small, they will become like a close family.
"If you're not connected, the show won't work," Zelvin said. "We have to know each other really well."
"Circle Mirror Transformation" is becoming one of the most performed plays in the country, according to Knight, but that is not the only reason why it was chosen as this year's winter play.
"I thought ["Circle Mirror Transformation"] had a lot of valuable acting opportunities for students," Knight said. "I've [also] always wanted to do a small play."
Sophomore Rory Penepacker, who plays the character Theresa, agrees that the cast has had a lot of fun at rehearsals practicing for the show. According to Penepacker, in one rehearsal the entire cast fit inside a large hula hoop, which is a prominent prop used in the play.
"We've all kind of bonded a little bit over the hooping," Penepacker said.
Both Zelvin and Penepacker encourage everyone to come and see "Circle Mirror Transformation" because it incorporates elements that are very different from past South plays. Since each show will have a different mix of students playing each character, there will be no two similar casts. Therefore, no two shows will be alike.
"This play is very different than anything else you will see at GBS for a while and probably from what you've seen before," Penepacker said. "It's unique and complex and interesting, and you will be fascinated."