South radio shows provide variety of entertainment for listeners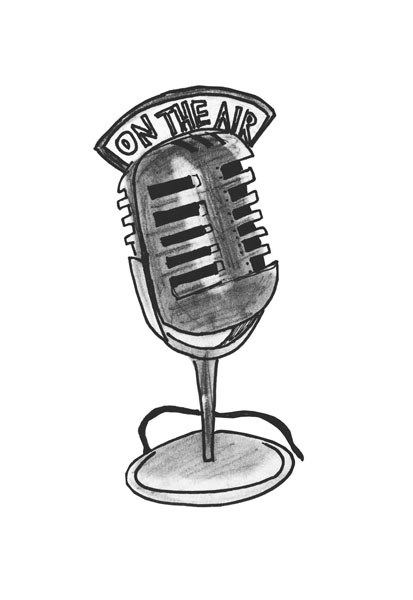 Whether you're cruising in your car, procrastinating on your homework or just feel like dancing and singing, South's radio station WGBK serves a wide variety of music and entertainment shows for every type of listener. From sports to folk and rock to talk, every week broadcasting students display their passion and enthusiasm for the music and activities they love by hosting their own shows after school.
 Based Show
Genre: Indie Rock
Similar Stations: College Radio Stations, 87.7
Time: Wednesday, 8:00 – 9:00 p.m.
For brand new music fresh out of the recording studio, "Based Show" (previously "The Jack Poulton Show") is the place to be to keep up with brand-new alternative tunes. Hosted by senior Jack Poulton and junior Jake Aquino, the show's relaxed vibe is unlike any other on the station. With the duo's pulse on the trends of new indie music, "Based Show" is quite unique from not only the rest of WGBK but also a good deal of regular FM stations, according to Aquino.
"I feel like unless you have Sirius XM radio, then you're not going to get the same music we play on a regular FM frequency," Aquino said.
Poulton agrees with Aquino and is proud of the show's distinctive ability to share their informed opinions on recently released songs and albums.
"We like to expose new music to the community or to whoever is listening," Poulton said. "People should tune in if they like interesting commentary and recent, up-to-date indie rock. 
Monday Madness
Genre: Sports Talk Show
Similar Stations: ESPN 100, 670 Score
Time: Monday, 3:30 – 5:00 p.m.
Whether it's baseball, basketball, football or any sport under the stadium lights, South's sports talk show expertly combines comedy with sports reporting. Hosted by juniors Tyler Aki and Jimmy Nash, sophomore Matthew Peterson and freshman Manny Martinez, "Monday Madness" is the place to be for all sports fans wanting to be in the know about current sport seasons. According to Aki, aside from all the sports talk, "Monday Madness" never fails to add a little humor.
"[It's a good show] for sports fans, but even if you're not it has a lot of entertainment because it can be really funny sometimes," Aki said. "It has some entertainment value to it."
For the past few months the panel of four has been focusing on the football season through NFL "pick-ems" and discussion of Fantasy Football teams and players. "Monday Madness" also hosts its own competition between the hosts called "Stump the Chump," where the panel member who answers the most sports-related questions correctly "wins" for the week, adding extra entertainment value. According to Nash, this is one of the reasons the show can be quite humorous for anyone, including non-sports fans.
"People should listen to our show to get the views of fans of the sport," Nash said. "[Most of the time] we offer an unbiased view on [the sport] we converse about. We bring sports talk to the listeners in an engaging and entertaining way that makes them want to listen."
El Hora del Sol
Genre: Classic Rock
Similar Stations: 93.1 WXRT, 97.1 The Drive
Time: Saturday, 12:00 – 1:00 p.m.
Senior Zack Bauer and sophomore Gracie Sands represent South's classic rock sector of WGBK Radio. For those who enjoy a throwback to the ageless melodies of the mid-60s, "El Hora Del Sol" doesn't let their fans down. With a mixture of unforgettable anthems as well as the lesser known tunes of prominent oldies, Bauer and Sands don't let hidden gems slip through the cracks.
"We are very entertaining," Bauer said. "We broaden the spectrum of what we think is good music, and hopefully other people think it's good music too. We're playing songs we love and want everyone to enjoy it just as much as we do."
Although primarily classic rock, the duo touches in genres like blues, bluegrass and occasionally jam bands as well. Throughout the year, they also dedicate shows to certain artists or themes that still hone in on their usual feel. According to Sands, the unique variety of less popular artists is what makes the show special.
"We play music that many young people may not think to listen to," Sands said. "It really pushes the listeners outside of their musical comfort zone and provides new insight on music that many would not know."
Our Hour
Genre: Indie, Folk, Underground, Grunge
Similar Stations: College Radio Stations
Time: Wednesday, 10:00 – 11:00 p.m.
WGBK's show "Our Hour," hosted by seniors Izzy Fradin and Paul Tisch, plays a wide variety of music for any listeners wanting to discover a new genre of sound. With an eclectic mix of underground and indie tunes, "Our Hour" features a series of themed shows every week that still touch their favorite genres and artists. According to Tisch, an important goal they set early on in the development of "Our Hour" is to keep their song choices diverse.
"It's a great way to be exposed to new music because we avoid playing the same song twice," Tisch said.
Fradin notices and appreciates her and Tisch's different yet compatible styles, which range from softer folk to harder grunge. While some of their genres do overlap, according to Fradin, this aspect is what makes "Our Hour" not only enjoyable for audience members but also for her and Tisch as hosts.
"We learn a lot from each other and listeners learn a lot," Fradin said. "Paul knows some [genres such as] crazy underground math rock and that sort of thing, while I stay kind of indie. It's a good mix."
MMAKL
Genre: Talk Show
Similar Stations: Morning Talk Shows
Time: Wednesday, 9:00 – 10:00 p.m.
Hosted by seniors Megan Kay and Kurt Roemer and juniors Annie Emme, Lucas Meier and Martina Dragoytchev, "MMAKL" (Megan, Martina, Annie, Kurt, Lucas) promises to put a smile on every listener's face. According to Kay, for anyone wanting to have a good laugh after a rough day of school, WGBK's "MMAKL" is the perfect radio to alleviate any negative feelings. Whether it be interrogating Roemer with tough questions or simply talking about each member's day at school, according to Kay, the show is all about the host's enjoying each other's company and hoping that their audience has as much fun as they do.
"We love to goof around and be silly on air in attempt to not only make each other laugh but our listeners as well," Kay said. "People listen to us when they are in the mood to smile and laugh."
According to Meier, aside from being a talk show, "MMAKL" wouldn't be the same without the great chemistry that the five members share. Like Kay, Meier notes that the combination of upbeat personalities is what makes the show so enjoyable for the hosts and the listeners.
"We are unique because of the fact we don't focus our talk around the music but just have fun on air and just have a great time," Meier said. "We enjoy the fact that people have told us they can put us on while doing homework, and it takes away some of the boredom."
About the Contributor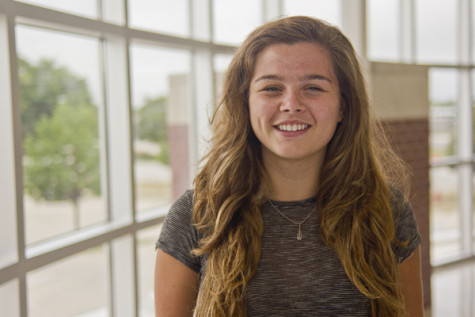 Kali Croke, Co-A&E Editor
Kali has been writing on The Oracle since the fall of 2012 and is currently the co-editor for A&E. She is a member of the student council as president...