DOMination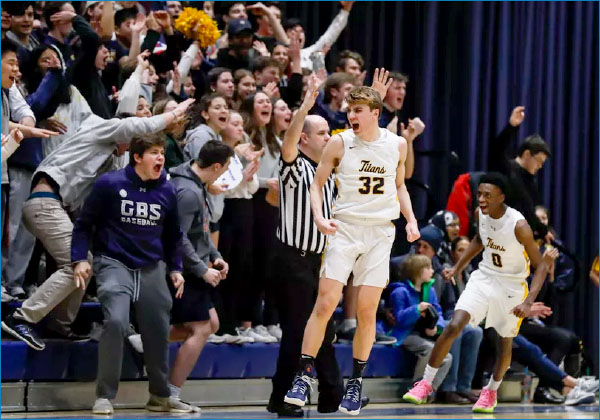 "Winner." That's the first word Phil Ralston, South basketball head coach, used to describe his star senior forward Dom Martinelli. After all, people tend to avoid doing things they hate the best they can, and there's nothing Dom hates more than losing. Whether it's a one-on-one game with one of his brothers, or a scrimmage with South's varsity team, Dom celebrates his wins and remembers his losses.
Dom, or Dominic to his parents and coaches, has a pretty simple relationship with losing. He will do anything he needs to do to avoid it. Though losses provide him with a learning experience, Martinelli has still resented losing since the early days of his basketball career. Ralston said that Martinelli's fire has not died out as he's grown during high school.
"[Dominic] does not take losing well," Ralston said. "He does not like to lose. There are aspects of his competitive nature where he wants to beat you in everything. I think that carries over into everything that he does."
Sophomore Nick Martinelli, Dom's younger brother and teammate, has witnessed Dom's competitiveness firsthand growing up. Nick fondly recalled a recreational league game when they were in elementary school in which his and Dom's team lost by one point. Nick, thrilled he even got to play with the older kids, was all smiles after the game. Dom was in tears.
"After a loss, Dom refuses to talk for hours after games," Nick said. "No matter how well he played, it doesn't matter. He would not say a word and he'd use it to push him to get better."
High scoring numbers, including a school record-tying 51 point performance at Buffalo Grove on Nov. 30, have been Dom's calling card each of the last two seasons. Dom can score on anyone in the state, Ralston stated, and that offensive ability gives South an advantage going into most of their games. Dom, however, said he doesn't care about his point total as long as the end result is in South's favor.
"At this point in my career, I'm not really focused on scoring," Dom said. "I just want to win."
Despite his commitment to winning, Dom's next chapter in basketball is not yet foretold. With several offers from Division II and III programs, Dom is waiting until after the season to make any concrete decisions about his future. Still, Dom believes continuing to win is his best strategy to get on the radar of more prestigious universities.
On a team with nine seniors playing their final games of high school basketball, leadership is important in setting up the program's future. With Nick and sophomore Cooper Noard in the rotation, Dom explained he feels it is his responsibility as a captain to show them and other underclassmen how to carry on the program after he's gone. Between his leadership and offensive prowess, Nick said Dom will be tough for the team to replace.
"We're going to miss a leader," Nick said. "With any teammate, it's tough to see them go, but with Dom he's really the glue. When you're in doubt, just throw it over to number 32 and he'll make something happen."
Ralston points to one moment that represented a turning point in Dom's career with South: a home contest with Evanston in Dom's sophomore year. During that game, GBS was down 51-50 with 6.7 seconds left on the clock and Dom at the line for two free throws. He missed the first. He made the second to send the game to overtime, but South lost in the extra period. Though there were many other moments that could have flipped the outcome of the game, Dom saw the loss as his fault.
"The poor kid took the weight of the world after that game," Ralston said. "Many times you get people that will take an adverse moment in their lives and they bring it out as a reason for why they can't do certain things. Dominic does the opposite."
Evanston returned to the Titan Dome this season on Jan. 30 and, for the second time in two years, suffered a loss at the hands of GBS. As Noard hit two free throws to put the Titans up 13 points with just 30 seconds to go against the number-three team in the state, Dom pulled his brother into an embrace on the other side of the court and flashed a smile as he looked up at the scoreboard. Dom finished the game with 34 points, but according to Dom, that didn't matter to him. The only thing that crossed his mind was the final score: GBS 67, Evanston 53. They won.