Men's Volleyball hopes to win conference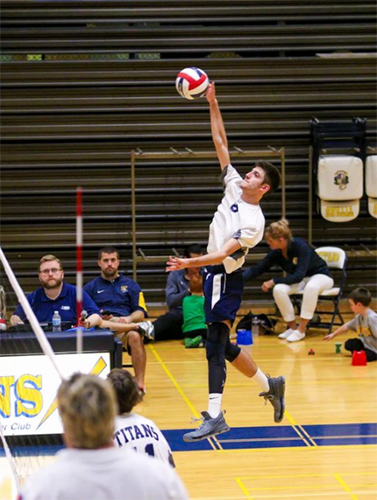 The GBS Men's volleyball team looks to go 9-1 in Conference throughout the rest of the 2017 season, according to head coach Tim Monahan. They are currently 7-2, having won against Evanston, Niles West, New Trier, Niles North, and Maine South.
"We've shifted our thoughts, and now we want to be coming out on top of Conference and playing in the Sectional Championship," Monahan said.
According to Monahan, the team has some outstanding players this year including its four seniors, Nic Cavallaro, Teddy Gregory, Myles Engel and Jack Sullivan, along with their sophomore setter, Thomas Cavallaro.
"[Thomas is] ahead of where we thought he would be as the starting setter as a sophomore," Monahan said. "He's doing a really nice job for us and nobody can do anything without him."
Monahan also spoke highly of Sullivan, the senior captain of the team. Being Sullivan's third year on varsity, he is a strong leader both on and off the court, and he is an influential part of the team.
"[Jack] has done a great job," Monahan said. "He leads vocally and by example and he's just showing the guys what to do."
The season had a slow start, according to Thomas, with losses against Glenbrook North and Lincoln-Way Central, but the team has gotten into the swing of things and picked up their game, having won the next five matches after Glenbrook North.
"At the beginning, we had a rough start against GBN and Lincoln-Way Central, but we kind of picked it up and we started clicking and we've been going after it ever since," Thomas said.
According to Nic, the team's strengths include their capability of playing their own game at the pace they want to be playing at. As far as weaknesses, they tend to lose focus if they play a match with low energy.
"Our weakness is definitely our energy," Nic said. "When we play with low energy, we tend to get unfocused and lose big points and make a lot of errors. But our strength is our ability to play our own game and play the game at our pace."
An important game for the team this season was their match against New Trier on April 26, according to Monahan. New Trier was expected to be the best team in the Conference, but South pulled out a win in two straight sets, winning the first set 20-25 and the second set 18-25.
"New Trier was coming in with only one loss and they were looked at as the best team in Conference," Monahan said. "The guys didn't let that slow them down or stop them and they went out there and got the win in straight sets."
Looking forward into the rest of the season, the team has a goal to come out on top of the conference, according to Nic. Last year, the volleyball team ended their season by losing in the sectional final to New Trier, who then went on to finish 5th in state. The team is looking to make it past the sectional final this season.
"Our goal for the rest of the season is to win conference," Nic said. "I definitely think that's a reasonable goal now, and then to make it farther than we did last year, which we lost in the sectional finals to New Trier in a really close game."
The finish of the season has brought some big wins for South against Niles North, winning in 2 of 3 sets, and against Loyola on the Ramblers' senior night, winning in two straight sets, according to Thomas. The confidence level of the team is high going into playoff matches.
"We are very confident," said Thomas. "We ended the season on a high note and we have high expectations for ourselves and our fellow teammates."