Stranger Things falls flat, lacks character development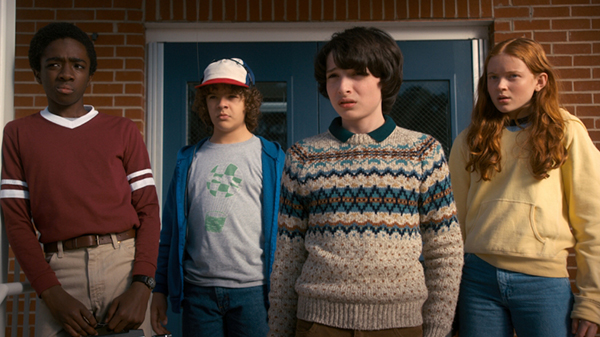 Brigid Murphy, co-features editor
December 22, 2017
"Nothing's going to go back to the way that it was, not really," sighs Hawkins Police Chief Jim Hopper to a distraught Joyce Byers in the dimly lit, dank hallway of Hawkins National Laboratory. Both accompany her son, Will Byers, to his routine doctor appointments following his harrowing stay in the Upside Down in Season 1 and dramatic return to normal life, or so they thought.    
October 28, 1984: Stranger Things Season 2 opens in the days leading up to the one year anniversary of Will's disappearance.  The young characters are beginning to experience a resurgence of emotions and trauma tied to that day, and this serves as the backbone of this season's story.  Thus begins the continuation of Season 1, in which Hawkins, Indiana was ravaged by supernatural events and witnessed the effects of years-long research by the US Department of Energy.
Will is still adjusting to life as a typical middle schooler, and by adjusting I mean severely struggling. Throughout the season, Will falls victim to several paralyzing episodes where he travels back to the Upside Down, but in current time, not by way of memories.  Will coins these visions "now memories," and for the rest of the season the characters attempt to rid him of these episodes.
Season 2 unfortunately did not meet the hype its fan base cultivated around its release. Season 1 sits on such a high pedestal that any attempt to recreate or extend that greatness is extremely difficult. While the new season is definitely not a disappointment, some elements did fall flat in comparison to its debut season.
First, the introduction of new, unnecessary characters detracted from the central storyline. While I'm all for the addition of young, powerful female leads, our new heroine, Max, was a feeble attempt at replacing Eleven. What does a show do when they don't know how to shake up Season 2? Add a new student to the mix.
A more unique approach to the addition of a new female lead to rival Eleven would be to have a young Hawkins resident, too curious for her own good, seek answers from Mike, Lucas, and Dustin about the strange disappearance of her classmate, Will.  This would keep the show centered on Hawkins and let the audience focus on the character development of those we know and love.
Speaking of those we know and love, I appreciated this season's effort to expand upon those who had shallower roles in Season 1 like Steve and Dustin, but missed screen time with the characters I previously grew close to.  To say characters would be a lie, it's just one: Mike Wheeler.
I love Mike. His on-screen presence ignites a feeling of warmth and security because you know when Mike's around, things get done.
Mike is the best part of this show hands down, but his role was seriously diminished in Season 2.  He remained pretty much in the background until "Chapter Three: The Pollywog", and was downplayed until "Chapter Eight: The Mind Flayer".  While he does play an integral role in helping Will cope with his violent episodes, Mike's character development is stunted for the majority of the season to allow others to flourish.
One aspect of the second season that did satisfy my frustrations from Season 1 was the new focus on the whereabouts of Barb.  The entire episode of "Chapter Five: Dig Dug" is dedicated to the search for this missing character, and we get a true glimpse into the guilt felt by Nancy and Jonathan after her forgotten disappearance.  This episode allows the audience to form a deeper connection to this pair, which is a greater theme of Season 2 for the smaller roles of the show.
Thankfully, Netflix and many of the drama's stars themselves have taken to social media to confirm the third season.  Filming won't begin until 2018, so we're a long ways away from our next installment.  For now, make sure to catch up on all your favorite characters (or just Mike) and see why Hawkins will never go back to the way it was, not really.