Trump resistance rally garners further Republican respect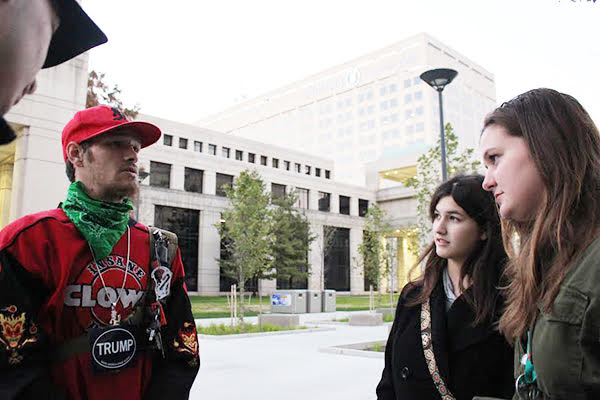 Anne Marie Yurik & Alexandra Sharp, co-editor in chief, co-features editor
November 13, 2016
At a Trump resistance rally at Indiana's capitol building on Saturday, Nov. 12, Republicans furthered our respect. We're not going to lie; everybody has political bias; however, we wanted to cover the rally as unbiased journalists. By leaving our opinions at the door, we were able to see the other side: the individual Donald Trump supporters thrown out of the rally.
They weren't just thrown out; they were spat on, cursed at and labeled as racist bigots while protesters carried signs proclaiming "Love Trumps Hate". After the event, our political beliefs did not change, but our moral ones did. There is something to be said about political polarization prohibiting true debate from occurring.
We saw this with the first people that caught our eyes: two LGBT+ women with rainbow flags draped over their shoulders. The women raised concerns over Trump's inability to preserve their constitutional rights of same-sex marriage, fair labor laws and religious freedoms.
Fists raised in opposition, the protestors voiced their worries of a Trump presidency. They advocated for the Black Lives Matter movement, LGBT+ rights, acceptance of immigrants and religions as well as other significant topics of the election through signs and speeches. This was shown as they chanted, "No Nazis. No KKK. No fascist USA."
In stark contrast, we were later pointed in the direction of two Trump supporters who were recently ejected from the demonstration. Driven to cover both sides of the story, we approached the men. Surprisingly, they were already in the midst of a civil conversation with an anti-Trump member of the rally. We emphasize civil.
We listened quietly from the side as they discussed their shared and opposing viewpoints. Although they expressed differences, they were willing to hear each other out, something we hadn't seen in politics in a long time. And just when they got to debatably one of the most heated issues of the election, military presence in the Middle East, they did the unthinkable.
They hugged.
To say it simply, we were floored. After three cut-throat debates, dozens of Saturday Night Live skits and countless anti-Trump rallies, political unity seemed impossible. However, here were three men of different backgrounds, ethnicities and parties able to see the kindness in each other's hearts.
Here's the truth: it's been hard for us to understand and respect other Trump supporters that are our friends and family. But after tonight, the boundaries separating us were shattered.
We must not succumb to the threats of secession and revolution that fill our Facebook feeds. At the same time, we understand that you may not want to pledge your allegiance to Trump; however, don't assume that every Trump follower shares all his policies and principles. Don't label your fellow neighbors.
In the end, by choosing the unbiased route at the rally, we allowed ourselves to be exposed to the true definition of the American spirit. We are one country, one people, despite the political differences within us. It may be a cliche, but it's true. The only thing dividing us is ourselves.