South joins nationwide student walkouts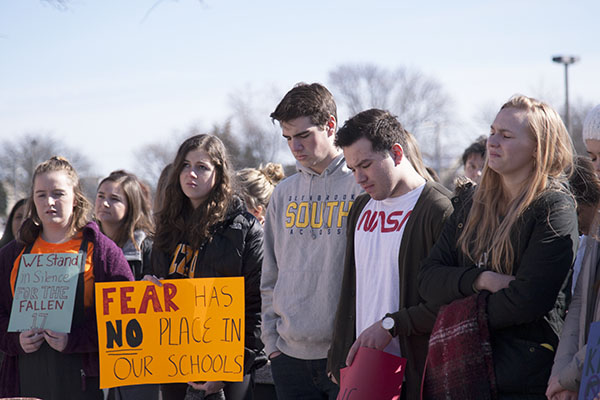 One month after the school shooting that occurred on Feb. 14 in Parkland, Florida, South students held a walkout to remember victims of Marjory Stoneman Douglas High School and press for increased school safety across the nation.
Students met after morning announcements and began a 17-minute-long silence at 10:08, in remembrance of the 17 victims of the Parkland shooting. The protest was held in the Auto's Courtyard on the east side of the building. At approximately noon on March 14, the Attendance Office estimated less than 1,000 kids participated.
The walkout was organized by a group of seniors, including Abby Grant, Alex Ladan and Christian Pareja, according to Grant. In addition to communicating the walkout plans with administration and students, seven of these seniors read the names and descriptions including ages, occupations and personalities of the Parkland victims during the walkout.
Before the protest, students gathered in the West Cafeteria to make signs and listen to students who volunteered to speak. Pareja expressed his exhaustion with inaction and hope for a future where students walking out across the country create change.
"It really hit me that these were people that were my age and had a future going for them and now they're gone," Pareja said after giving a speech. "I just feel like everything that has been done has been swept under the rug and it just lit a fire in me, a passion maybe. I'm done, I'm tired of it, I want to take a stand and show people what I believe in."
The majority of students did not participate in the walkout, Fagel says. One student who chose not to participate was junior Ryan O'Hara, who voiced that, while he supports the ideas behind the walkout, he feels that his purpose at school is learning.
"I'm all for the walkout and how all the students, if they want change they have to take action, and I like that, but the reason I come to school every day is to get a better education, and that's what I am going to do," O'Hara said.
According to Josh Koo, assistant principal in charge of student activities, as public employees, the administration could neither advocate for nor against the walkout plans. Rather, the administration focused on the event's logistics to ensure student safety, Koo says, while at the same time being cautious not to condone or encourage the protest.
According to senior leaders, they met with administrators on Feb. 28 and were told that students participating in the walkout would be excused from their classes and would not receive consequences. The leaders then shared this message through social media, and a 'Titan Walkout' website that held all of the logistics and information regarding the walkout.
After further consideration, the administration determined students that walked out would be marked as unexcused, though this absence will not have further consequences. For seniors who are exempt from their final exams, the absence will not count against them, according to Principal Dr. Lauren Fagel. This change was communicated to students through a district-wide email sent on March 12.
"Public schools must remain politically neutral, and it is through Board policies and school rules that we [can] ensure that the rights of all students are recognized and protected," the email stated.
To ensure a safe environment for students, the school had adults present throughout the school, including teachers and three Glenview Police officers, Fagel says. Additionally, the campus was closed to visitors, which Fagel believes created a calmer environment.
Sophomore Lauren White attended the walkout and feels the victims of the Parkland shooting were rightfully honored and remembered.
"[The walkout] was very somber. I would say it was really moving because even through the silence, it said so much," White said. "I think the [descriptions] of students were really powerful because it made it not just a list of names you see on the news, but it showed you that they're human, and their lives matter."
Pareja says that through helping to organize the walkout, he has seen the power of student voices, which is something that can be overlooked. He hopes that more awareness is spread about school safety.
"What I've learned [through organizing] is that we have power in our voice even if we're teenagers," Pareja said. "Something I've always worried about is 'What can I do?' and 'What can my peers do?' We have our opinions and we want change, but we don't know what we can do. It made me realize that we do have a voice, and we have power in numbers."
*Imra Tajuddin and Jack C. Davis contributed interviews to this report.