Students teach important skills in "Learn to Swim"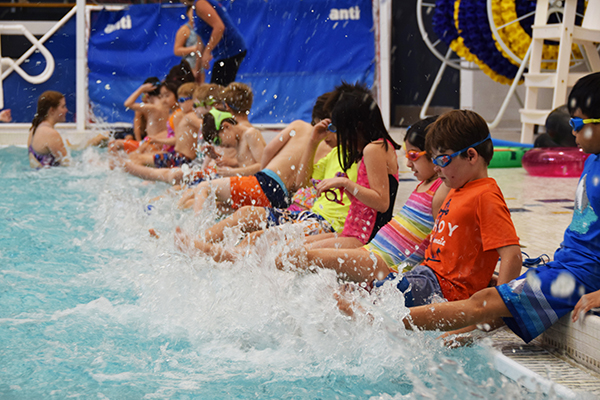 Saturday mornings at Glenbrook South's pools are filled with excitement for the Glenview youth as eager young children learn how to swim with the assistance of high schoolers in the "Learn to Swim" program.
Beginning in 1962, "Learn to Swim" was designed to teach the community's youngest generation a lifelong survival skill, according to Jodi Compton, co-director of the program along with Jody Nolan. Now, 57 years later, the tradition continues as South's high school students volunteer on Saturday mornings to help with the program. Compton explains that one of the main benefits of the program is seeing the older students become role models for others in the community.
"It is always a good idea that high school students are role models for their community and I think when you're reaching out to those students, they take pride in their local school," Compton said. "The [younger swimmers] are learning a life skill that they can use the rest of their lives. They may not become Olympic swimmers, but they now have a skill that they can use during vacations, or in other sports."
According to Student Director Kate Solem, many of the students who volunteer for the program share a passion for teaching others a skill they grew up using. Solem enjoys working with the children and finds it rewarding to see them pick up on the techniques while developing as swimmers.
"I've been in swimming my whole life," Solem said. "I was on varsity [swimming] when I was a freshman. Although I didn't go through the "Learn to Swim" program myself, I had a passion to teach others. I really love the kids and the pool is a very unique environment to hang out with them. Also, swimming is one of the only sports that can save your life…so I really want kids to learn that skill."
Student Director Anthony Kang explained that being involved in the program has taught the student volunteers valuable skills such as leadership and patience. Kang also believes that working with the little kids has allowed them to see things from a different perspective, and problem-solving to help the kids understand new skills, especially when trying new techniques for things that may come naturally to experienced swimmers.
"I think the hardest thing to teach are those little kids who are scared of the water because I can't really relate to that now," Kang said. "Sometimes it's so easy to [describe] a technique in [a certain skill level], but [with younger kids] you just have to keep experimenting."
According to Kang, directors Compton and Nolan have helped him and other guards learn new methods for helping children learn new skills and have inspired the students to become leaders and role models for their community. Solem claims it has helped her develop an important skill not only in programs like "Learn To Swim," but in the student's futures.
Kang believes that the hardest part is having the patience to teach the kids new skills when they might not always master them right away. Although this is a challenging aspect, they have learned to try new techniques and have the patience to help the young swimmers achieve their goals. According to Solem, watching the kids grow as swimmers as they move through "Learn To Swim" often becomes the most rewarding part of the program.
Many of the student volunteers have been not only able to help their community through "Learn To Swim," but explore their passions. As Kang acknowledged, the swim community has always been there for him, and even as he moves on to college he knows it will continue to be a support system for him and others involved in the program.
"The swimming community has given me so much," Kang said. "I think we will always be more tight-knit than any other group."