Eleven-year-old Abeysiriwardena exemplifies GBS spirit through involvement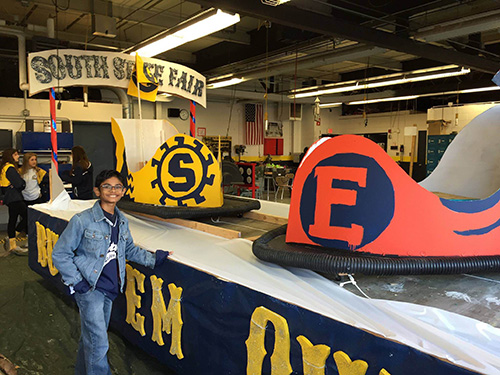 From juggling in juggling club, debating global issues in Model UN and trying new teas in Tea Club, to introducing the freshman class at the 2016 Homecoming pep rally, freshman class president Anish Abeysiriwardena's passion for South runs high. This enthusiam translates through the 11-year-old's involvement in various clubs and activities around South.
According to Abeysiriwardena, growing up he went through preschool, kindergarten and initially first grade at the normal rate, but realized at the beginning of second grade that he was not being challenged academically. Abeysiriwardena added that after testing out of second grade, he was bumped up to only third grade and then completed all of third grade, and the beginning of fourth grade before his parents made the decision to put him into homeschooling.
"Because [my elementary school] could not accommodate [moving up additional grade levels], I was taken out of that school to be home schooled, and was put in seventh grade," Abeysiriwardena said. "I continued homeschooling for a couple of years, but then I [realized] I wanted to come back to a normal high school."
According to Abeysiriwardena, he was very eager to come to high school from being homeschooled for many years, from hearing about GBS from his brother, Niam, who graduated in 2016. Abeysiriwardena explained that although there were benefits of homeschooling, such as not having peer pressure or bullying, a small setback of it was a lack of social structure, which was an aspect of high school he was most looking forward to experiencing.
"My brother went [to South] last year, and he said that it was absolutely awesome, so I, of course, wanted to come [to GBS]," Abeysiriwardena said. "I was most excited for the clubs, activities, the amazing school environment, the large campus. It's [all] pretty cool."
One of the first activities that Abeysiriwardena decided to become involved with at South was Student Council. According to Abeysiriwardena, Student Council was not something he was initially interested in, but his peers encouraged him to run for a position. Abeysiriwardena explained that because of his friends he was able to find his passion for leading others.
"Once I got settled in [at South], a bunch of my friends kept on saying, 'Hey you should run for freshman class president, you should do this,'" Abeysiriwardena said. "I really felt it would be nice to be in a political position and help represent the freshman class."
According to Dr. Jim Shellard, student activities director and sponsor of Student Council, he had the opportunity to work with Abeysiriwardena throughout the election process which allowed him to see the enthusiasm that Abeysiriwardena had about South. Shellard noted how he saw this passion through Abeysiriwardena's role in both the lip dub and Homecoming.
"When I suggested that maybe [Anish] be in that bouncy room at the beginning of the lip dub, some people might have thought, 'Hmm, I don't know how I feel about that,' but he was eager [to have a part in the lip dub]," Shellard said. "And during Homecoming, [Anish] fired up the freshman class. There were more freshman [at pep rally] than anybody else in the room."
According to Shellard, Abeysiriwardena was responsible for leading in the construction of the freshman class float throughout the week leading up to Homecoming. Charlie Kuhn, freshman class appointed representative, explained that as he assisted in the construction of the freshman float throughout the week, he consistently saw Abeysiriwardena's enthusiasm and involvement at South.
"[Anish] always works very hard and is always trying to find something to do," Kuhn said. "[Anish] is always asking if he can jump in and help. For example, [during float construction] when I was cutting some motors for the float, he would always ask, 'Can I help?', 'Can I do this?'[…] He was always very enthusiastic about his work [on the float]."
Similar to Shellard and Kuhn, Michael Roytman, freshman class appointed representative, sees this same passion that Abeysiriwardena has for the school translated into the classroom in regards to his attitude about learning and working with his peers. According to Roytman, he consistently sees Abeysiriwardena collaborating and assisting his peers in Honors Biology when they need help.
"In our bio class, when people are having a hard time, [Anish] will come over [to help them], not necessarily by giving them the answer, but moreso by explaining [the content] of what is in the question [they are being asked]," Roytman explained. "[Anish] is more like a people person. He takes care of people and he loves people. [Anish] is  a very open minded person and tries to help [others] in any way he can."
Roytman additionally explained that even though  Abeysiriwardena is younger than him and their peers, he believes Abeysiriwardena is so much more than what someone might perceive him to be at first glance simply because of his age. According to Roytman, Abeysiriwardena alters the impression people may have of him through his positive attitude and enthusiasm.
"Anish is not what necessarily meets the eye, he is so much more," Roytman said. "[Anish] is a great friend in many respects: he has a lot of resources, a lot of knowledge which allows us to make great conversation and talk for hours and hours … I'm not even going to say that he is 11 [years old] because that is just offensive to him. [Anish] is just like one of us, and that's it."