Adventerous South students participate in unique sports, activities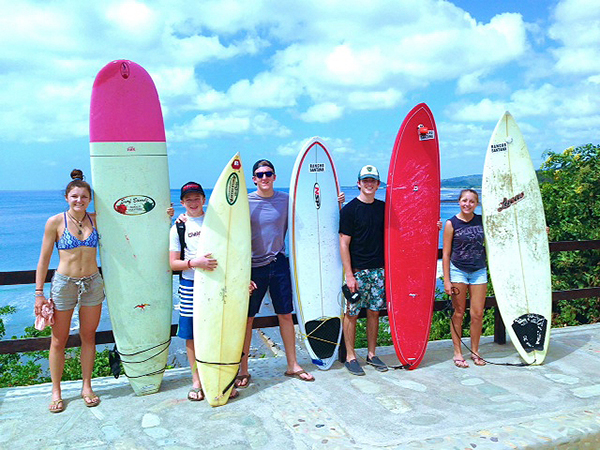 Sinead Heneghan, staff reporter
February 6, 2015
Hang on for a minute...we're trying to find some more stories you might like.
Heart pumping and adrenaline flowing, three adventurous South students experience a thrill that is unknown to most through participating in unique, daring sports. From surfing in Nicaragua to mountain biking and hunting in Wisconsin, these students participate in activities that few can relate to.
Compared to the average athlete, junior Megan Tristano participates in a more adventurous sport: surfing. According to Tristano, she has been surfing for the last four years alongside her cousins when they go on family vacations.
"I have about 20 cousins, and we're all just one big surfer family," Tristano said. "So when we go on vacations, that's just what we do."
According to Tristano, she has many memories from a vacation to Nicaragua that she and her family went on over the recent winter break.
"My favorite memory from that trip was when we surfed at sunset," Tristano said. "[It was] me and my five other cousins […], and we watched the sun go down and stayed after dark [to surf]. That was so amazing."
As much as surfing is fun, it is also very dangerous, according to Tristano.
"This vacation I injured myself [while] surfing," Tristano said. "When I fell off a wave, the tip of my surfboard hit me right above my eye, so I [had] to get stitches [a few weeks after]. I got it glued in Nicaragua, so I could still swim and surf, but I got a black eye from it."
Despite the risk, Tristano believes surfing is very relaxing, and she wants to continue to surf when she is older.
"I always think about my first wave," Tristano said. "The first time I got up I had this feeling like, 'This is so amazing!' If you have a chance to surf, do it. Anyone can get up."
Another South student that participates in a unique sport is junior Richard Yong, who likes to mountain bike when he can in Wisconsin during the warmer months.
"I've always been a fan of [mountain biking] and [have] always been an avid cycler, so I naturally found myself wanting to do it on vacations, and I just love the rush you get," Yong said.
Yong's parents support him in his hobby and take him on family vacations to Eau Claire, Wisconsin to ride on trails, according to Yong.
"My mom thinks it's great that [my sport] is outside and I'm being active and not cooped up inside all the time," Yong said.
According to Yong, although this is a very new sport for him, he already has some great memories from the trails he has gone on.
"I went camping with a friend and stopped by Eau Claire," Yong said. "It was really fun going down the trails with another person for a change."
Yong advises everyone to try mountain biking because of how it makes your adrenaline pump, unlike your average sport.
"I just like the speed, you know just going down a hill with jumps and getting that invigorating rush," Yong said.
Junior Maddie Baxter also has a unique hobby, different than other girls at South, which is hunting with her dad in Wisconsin every year, according to Baxter.
"My family goes multiple times during the year, depending on what animal season it is," Baxter said. "Fall is deer hunting, and all throughout winter is bird season."
According to Baxter, hunting is a special way that she bonds with her family.
"My dad loves that I'm a hunter, because he gets to spend time with me in a way that most kids don't get to spend time with their parents," Baxter said. "My mom completely supports it too. She wishes that she could go hunting more often."
Baxter wants to continue this tradition when she is older with her own family, because it has brought her many memories throughout the years, according to Baxter.
"My favorite memory was my first deer hunt with my dad when I got my doe," Baxter said. "We had been in the tree stand for hours, seeing nothing, then two deer popped out of nowhere and I got my doe. I was so happy […]; it's an experience like no other."
According to Baxter, it's not all about shooting animals to her; hunting is about providing for her family and knowing where her food is coming from.
"Whether it is archery, target practice or hunting, they are all a sport and you shouldn't judge hunting before you try it," Baxter said. "It's a unique experience that is worth trying to understand."