Seniors explore alternatives to traditional college paths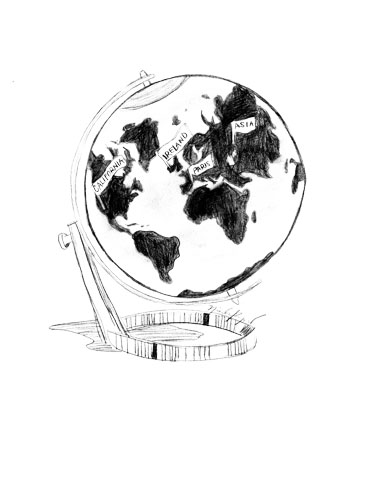 Kelsey Pogue and Victoria Sunkel, co-web editor and staff reporter
May 23, 2014
Hang on for a minute...we're trying to find some more stories you might like.
Next year, while the majority of current seniors will leave Glenview to begin their first year of college in the U.S., a few have chosen to take gap years or study at an international school.
WESTWARD BOUND
Seniors Haley Wilson chose to take a gap year to try and move to the West Coast. Wilson hopes to work for Disney hotel services to get experience for a possible future career in hospitality.
"I love working with people who travel, you meet the coolest people," Wilson said. "I was sitting at the hotel at Disney [once] and we talked to someone who was there from Scotland."
Wilson claims she was influenced to take a gap year by watching her older friends.
"No one in my family has ever gone to college before," Wilson said. "They always told me 'Yeah you're going to college' and I looked around and saw a lot of people who weren't going for one year, who were just going right to work."
Wilson is also exploring the option of attending college and gaining residency in California.
PATHWAY TO ASIA
Senior Daniela Vargas is planning to concentrate on traveling during her gap year. She chose a gap year to save money and believes it will be better for her to find out her intended major.
"I don't want to choose just any college and see from there what I want to do as a major," Vargas said. "[I want to] go to the best school I can for what I want to do and I want to be completely 100 percent sure."
Vargas claims the high tuition rates she would pay are something she is not ready for. Vargas has a Visa but not a green card, so she will pay higher tuition rates because she isn't a full U.S. citizen.
Vargas is planning to travel for after she receives her green card in December.
"There's a program called Rustic Pathways and you choose whatever [time frame and type of trip] you want," Vargas said. "I'm passionate about Asia and I'm passionate about helping out in orphanages."
BONJOUR, PARIS
Senior Bojana Galic is going to New York University (NYU), but is studying abroad for her freshman year at the NYU Global Academic Center in Paris. Galic was surprised when she found out she would be studying abroad.
"When I checked the box of, 'to be considered for entry into the program', I knew that only 25 freshmen are admitted into it," Galic said. "So I like definitely did not expect [to get in], and I'm not completely sure I understood what it meant to check the box of 'yes I would like to be considered' […]. So then, when I got my acceptance letter, it said we will expect you to spend the first year in Paris; I was so confused. It was the most amazing surprise."
Galic had a tough decision to make, balancing distance and opportunity, but ultimately decided to accept the offer.
"I was really hesitant to accept their request that I spend my first year in Paris at first, just because it is Paris, and granted I've been there more than New York and I know the city way better […], but it's still an eight hour flight as opposed to a few hours," she said. "It is a huge difference, but they told me I might not get the opportunity again, so I thought, why not?"
Galic will be in the Core Liberal Studies Program, which consists of classes such as philosophy, writing and French. Galic is looking forward to spending the year in Paris.
"I love Paris; I think it's amazing," Galic said. "Just whenever I go, it's always me rushing to see everything that I can. […] When I went with the exchange here, we only had three days to see all of Paris. That's nothing. […] I'm really looking forward to exploring things at a slow pace."
IRISH LASS
Senior Molly Carroll has visited Ireland almost every other summer growing up and she has chosen to attend Dublin City University in Ireland. She plans to see how the year goes, and then decide if she wants to stay there.
"A lot of the schools in Europe are only three year or four years," Carroll said. "So next year I'm going to go over for the year and see how it is, and I might transfer back here or stay there."
Carroll has dual citizenship in Ireland and the US. However, she would still be entering as an international student.
"My dad was born there so I have my passport there so I have dual citizenship there too, so it's a little cheaper," Carroll said. "I still have to go in as an international student, [but] it's [still] cheaper as an international student [there] than [here]."
Carroll is looking forward to visiting her family and also traveling the country and Europe.
"I have so much family over there, I have a lot of cousins over there and also another friend of mine is going over," Carroll said. "[…] So we're hoping to visit a lot of family and just travel around the whole country and see what it's like."
Since she was little, Carroll thought about attending college in Ireland. While Carroll says she does not plan on living in Ireland, she is excited about the new experiences.
"It might be hard if I don't get to come home for Christmas or Thanksgiving, […] like I could if I went to a college here," Carroll said. "But I'm definitely glad I chose to do the year over there instead of [doing study abroad here], because I think that I will like it over there. I think that I will eventually end up staying there […], I'm just really excited to see how it goes."