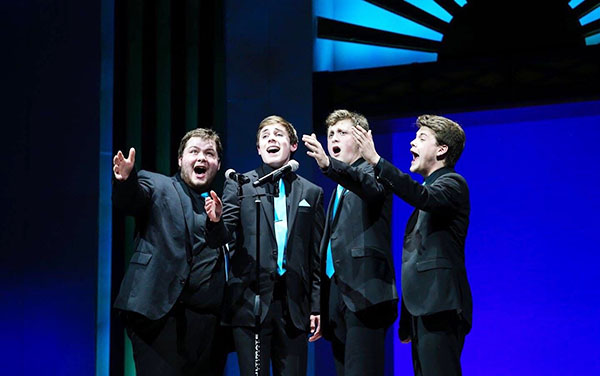 Senior Colb Uhlemann, president of master singers, is a well known star in Scat That, Nine, and Chamber Singers at South. According to Uhlemann, his greatest interests are jazz, a capella, playing the piano, and exploring music in general. He explains that he first started his musical journey in the third grade, when his parents first encouraged him to join choir.
"[When I was younger] I joined the elementary school choir and I just never stopped," Uhlemann said. "When I got to high school, I found that there were a lot more opportunities."
According to Uhlemann, his passion for singing comes from the tight bond that students of choir share, one that is formed based on mutual interests.
"Being in choir, I haven't really found anyone that I don't get along with," Uhlemann said.  "We're all there because we love to sing and we all enjoy music."
According to Uhlemann, the annual Chamber Singers marathon has been one of his favorite music related events at South. Taking place around the holiday season, this event consists of fourteen straight hours of  learning seasonal songs and strengthening bonds among students involved in choir.
"We spend a lot of the day singing but we also go out for lunch, dinner and bowling at the end of the day," Uhlemann said. "It's always a blast."
Andrew Toniolo, co-choir director, says he spends a lot of his time with Uhlemann. From freshman to senior year, Toniolo explains how Uhlemann has developed both as a singer and a student.
"His talent over the years has grown with his passion and enthusiasm for music," Toniolo explains.
According to Toniolo, Uhlemann entered South quiet and shy, gaining confidence in singing with support from peers and teachers. Toniolo says Uhlemann is very encouraging and has a lot of talent which he is well respected for. He also says that Uhlemann provides for everyone, before himself.
"Papa bear is a term that matches Colb," Toniolo said.
In choir, Toniolo says Uhlemann is seen as a leader. Toniolo believes Uhlemann brings a levelheaded, logical approach in his choir classes. Although Uhlemann enjoys singing, he explains that he does not seek a career in singing. Aside from his singing programs, he also partakes in Project Lead the Way (PLTW) and Engineering club.
"I'd like to continue singing but I want to pursue a career in engineering," Uhlemann said. "The thought process and creativity behind engineering and choir is really similar, and that's why my interests in those are so related."