Paradox allows students to explore creative improv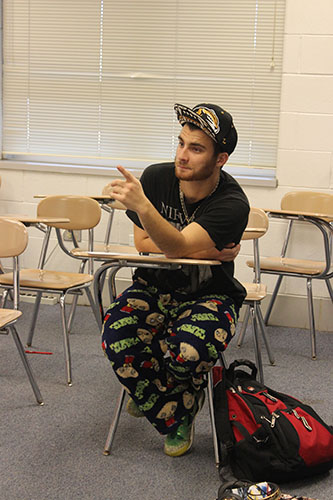 Julia Bellair & Emma Morris, staff reporters
November 24, 2015
Pick an object from the middle of the room, work with other students to create a skit using the selected props, perform the skit, and repeat. These are the events that occur at a weekly Paradox meeting.
Glenbrook South's Paradox club meets in room 160 every Thursday to discuss skits, perform improv, and according to senior Stef Patsas, they have a blast doing it. The teacher sponsors, David Garbe and Sharon Kaltman, dictate the structure of club, and the students take it from there.
Senior Adrean Lichev said, "We think of the skits, you know, everyone can bring up an idea and there's a shared folder with all of us so everyone puts in their ideas and when we go to the meetings, we'll open 'em up and people will work on 'em together."
Every week of Paradox club is another week of preparation for an annual show. This yearly performance is also called Paradox, and it revolves around short acts that are all thought of and constructed by its members. Once a year, the students put on the show that includes, acting, singing, dancing, and really any talent that they can think of.
Patsas recalled her favorite Paradox moment from last year's show where she had to deliver a flour baby.
"I had to pretend to drop the baby, so all of the flour spilled out," Patsas said. "Right as it spilled out, it got all over me, and all over everyone in the front row. I remember getting up, I slipped, and I think I fell because the floor was so slippery," Patsas said.
The group possesses a shared folder in which they can all add ideas for skits and give everyone an equal chance to contribute ideas, according to Lichev. Under the supervision of Garbe and Kaltman, students collaborate to create skits that they could later perform, according to Patsas.
"Different minds working together and just goofing off was my type of thing," Patsas explained.
According to Lichev, the club doesn't have a designated student leader. All of the members are equals, and the seniors are there for the younger members. Currently, Paradox is made up of a majority of upperclassmen, as stated by Lichev.
"If you're a freshman or if you're looking for a club to join, I think Paradox is a really welcoming club," Patsas explained. "It's not about commitment, it's not a point system. It's just goof off and express yourself. And everyone there is supportive."
According to Lichev, Paradox was the best format through which to express his personality.
"I was hanging out with another Paradox member, Ted Steger. We were crackin' jokes and we were being really funny in his house and his sister walks down and thought we were pretty funny," Lichev said. "[she] said, 'You guys should join paradox' because she was in paradox when she went to GBS, and she told us all about it and we thought it was a great idea so we joined."