Fire leads to school cancelations and closures
Today, school was canceled following a fire accident that occurred in the Woods room yesterday, May. 4.  The Glenview Fire Department arrived at the scene by 3:10 p.m. yesterday and the fire was deemed under control by 3:22 p.m., Gary Schumacher, Battalion Chief of the Glenview Fire Department explained. All students and staff evacuated the building safely with no injuries sustained, Principal Dr. Barabara Georges said. 
The cause of the fire is still being investigated by law enforcement. However, preliminary reports have deemed that the fire was unintentional, Schumacher explained.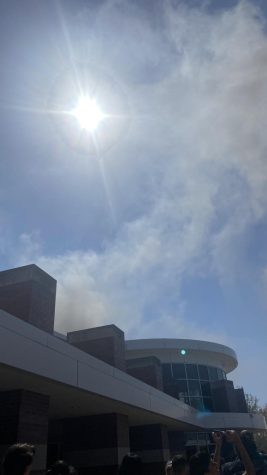 Fire personnel reported to the scene and had water on the fire by 3:17 p.m.. The last of the firefighters left the scene by 6:11 p.m. with much of their time spent on clearing smoke from the building. The fire was contained within the Woods room with no other parts of the building damaged, Schumacher said. 
Due to the spread of the smoke from the fire to other parts of the building, District 225 administrators
canceled school today to allow restoration companies to remove the smoke and its odor using air scrubbers, Schumacher said. 
"The smoke does have an odor that permeated across the school and it usually takes about a day or two to clean the air so the [administration] wanted to make sure they got all the smell out of the air before trying to get kids back in [to the building]," Schumacher said.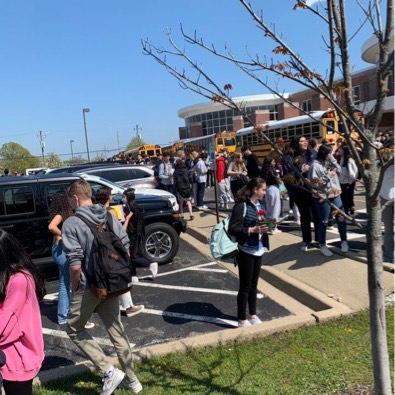 A plan was put in place for students to secure their belongings in the building today, with different grade levels having different time slots to pick up their items, Georges explained. Today, 1372 students picked up their belongings from South, and this plan will continue to resume Monday for the rest of the student body to pick up their belongings. 
"Only students will be allowed in the building," Georges said. "Students will sign in and wait in the auditorium to be escorted to get their belongings. Siblings may come together at their preferred grade level time slot to retrieve their items." 
Most after-school activities were canceled yesterday with events and activities being rescheduled, Georges said. In addition, some Advanced Placement (AP) exams that were scheduled to take place today will be rescheduled as well. 
"Coaches and sponsors will communicate regarding athletics and activities," Georges said. "Another communication will be forthcoming for students participating in AP testing."
Georges commended South's student body and staff for the response and calm maintained during the incident.
"I am proud of the speed by which students evacuated the building, respectfully followed teachers' directions, patiently waited for information, and cared for each other," Georges said.