McManus turns murder into page-turner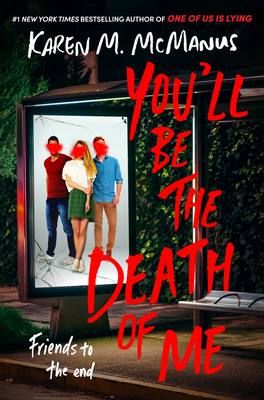 After writing The New York Times Bestselling book, One of Us is Lying, Karen M. McManus has created yet another suspenseful murder mystery novel titled You'll be the Death of Me. The novel follows the lives of three teens, Ivy Sterling-Shepard, Mateo Wojcik, and Cal O'Shea-Wallace, as they rediscover their friendship through a re-enactment of the "Greatest Day Ever," their middle school ditch day.
Taking place in a small town outside of Boston, the three Carlton High students ditch school to escape the everyday challenges at school and agree to drive into the city. However, the trio quickly learns that they aren't the only students from Carlton skipping class. After stalking another student into town, they witness his murder. While escaping the crime scene, the teens worry about their connection to the "dead kid." But, with each of the teens hiding their own secrets about the murder from one another, it becomes very difficult for them to work together.
McManus's suspenseful journey uncovering the mysterious murder and the accusations that arise force the trio to learn the value of trust. United because of their past, they try to uncover as many clues as possible to prove their innocence, and to defend the people they love. As the three dive deeper into the crime, secrets start imploding, sending shockwaves through the group.
McManus's You'll be the Death of Me uses twentieth century lifestyles with her characters, giving each of them different personal pressures to face within their homes. Ivy Sterling-Shepard grows up in an upper-class lifestyle and competes against her academically advanced younger brother for her parents' attention. Mateo Wojcik struggles to maintain two jobs and care for his mother's osteoarthritis. His father is gone, and his cousin Autumn now lives with them to avoid becoming an orphan. Cal O'Shea-Wallace struggles to get past a first date, and doesn't have many friends to lean on and feel supported by. He's the only boy in his class who has grown up with two dads and has dealt with his peers' continuous questions. McManus unites each student with their desire to rekindle their old friendship while also attending to unfinished business.
This novel succeeds in presenting realistic teen family relationships, while still having characters overcome serious roadblocks. You'll be the Death of Me gives a different character's point of view every chapter, escalating the suspense of discovering one clue at a time. With overarching conflicts that arise within families in the real world, the book shines a light on the importance of friendship, and gives each character elaborate growth throughout the novel, even with the backdrop of a murder case.
You'll be the Death of Me resembles prior hard-hitting murder mysteries from McManus, but is the first to end on a cliffhanger, with a sequel hitting the shelves this summer. For anyone interested in romance, thrillers, or any of McManus's other reads, it's a real page-turner, and a must-add for your 2022 booklist.