Lizzo promotes self-love in most recent album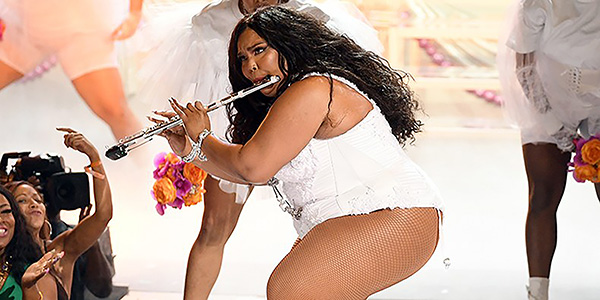 If I could get a tattoo of anything in the world, I would easily decide on an image of my icon: Lizzo. An American singer, rapper and classically trained flutist, Lizzo spreads her infectious self-confidence throughout her 2019 album Cuz I Love You. Lizzo's intense commitment to loving yourself as well as others is not only a message I would gladly brand on myself with permanent ink, but is one we all need to get behind.
Lizzo's presence is impossible to ignore. An undeniable force of nature, her bold, badass aura shines through every goosebump-inducing song. Lizzo's powerhouse pipes kick the album off with a bang. Belting the album's title song a Capella, Lizzo needs no backing track to stun her listeners. The album's first phrase, "I'm crying cuz I love you" is followed by a crescendoing cacophony of bass and drum beats, a striking first moment to set the tone for this jaw-dropping album. "Cuz I Love You" showcases both her insane vocal range and rap skills perfectly, capturing her vast array of talent.
"Like A Girl," a feminist anthem that truly exemplifies Lizzo's mission to spread self-love, follows the title track. "Like A Girl" is lyrically moving, endlessly praising women and their power. Lizzo seamlessly transitions from rapping, "The only exes I care about are in my f—ing chromosomes," to working her vocal range as she sings "I make these boys get on their knees." Lizzo is no stranger to flaunting her sexuality, breaking down barriers about how a woman should act. She proves her femininity once again in her slow and flirty song "Lingerie."
Lizzo continues this female empowerment theme as she sings upbeat lines in "Soulmate." She unapologetically boasts her beauty and power, calling herself a "queen" who needs no crown.
However, Lizzo's loving nature is not limited to just women. In her song "Boys," Lizzo preaches physical attraction regardless of outer appearance. Lizzo claims she likes boys of all sizes, classes and ethnicities, rapping, "Go and slay, boys, you my fave boys." While female empowerment songs are extremely common these days, it's rare to hear a song in the same realm, but about boys. Unlike girls, boys are often expected to have immediate self-confidence. Lizzo sees through this harmful assumption and openly shares her love for all boys.
Later in the album comes "Juice," a standout song that peaked at number four on the Billboard R&B digital song sales chart according to Billboard.com. Pumping vivacious, upbeat energy through every note, Lizzo fiercely embraces every facet of her being as she urges others to do the same. Not only is this song a high tempo representation of self-love, but also an example of how one should love others.
However, not all of Lizzo's songs are so lively. Lizzo takes a break from her signature hip-hop sound as she remembers a past love in her ballad "Jerome." Still rooted in infinite self-love, Lizzo recounts leaving a man who did not treat her the way she deserved. Slow and flowing, "Jerome" proves Lizzo's music should not be reserved for clubs and parties.
Cuz I Love You is thrillingly powerful, able to make any listener feel on top of the world. So the next time you're feeling down about yourself, find a speaker, turn the volume all the way up and blast some Lizzo. Because, above all others, Lizzo has a unique power to remind you of your worth.