South students keep exotic pets, form unique bonds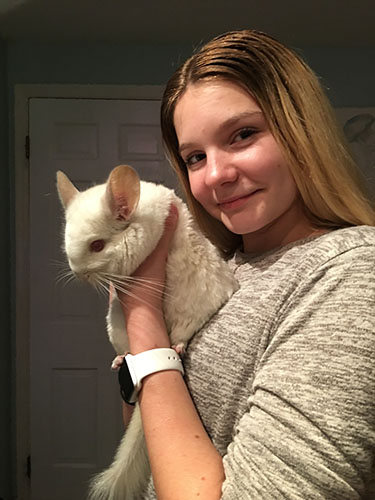 A hamster wheel squeaks as small rodents run in circles. Two chinchillas tease one another as they receive a dust bath, squeaking along with the wheel. A dog barks at a cat who turns around and hisses. Sophomore Emma Bird sits on her couch and holds a rabbit, relishing in the company of her animal friends.
Bird says she owns nine pets, including an albino chinchilla, one lizard, one rabbit, and two guinea pigs. Bird says her family has a history of taking in rescue animals and her stepdad, a Shedd Aquarium employee, continues this trend. She explains that the number and variety of her pets is shocking.
"I feel like [exotic pets] are [misunderstood]," Bird said. "They're [less known] because you don't hear about a chinchilla every day, but you hear [people saying], 'Oh, look what my dog did!'"
Bird says that while it is difficult for exotic pets to express their personalities, she and her family still have strong bonds with them.
Freshman Maddie Plante said she often receives judgement for owning her rats.
"When you hear the word 'rat' you think of sewer rats–disgusting animals," Plante said. "Most people don't know there's such a thing as a domestic rat."
Plante says she was always interested in owning rats because they are very intelligent and social. She developed strong emotional bonds with her rats when she got them last spring, and now her rats can recognize her, Plante says.
"It's a lot more personal [with a rat] versus a dog," Plante said. "They go on my shoulders, they'll sit on my lap."
Plante acknowledges the downsides to owning exotic pets. For example, the few veterinarians who handle exotic pets usually charge more, Plante says.
Sophomore Sasha Menchaca agrees that caring for exotic pets can be difficult. Menchaca owned six African clawed frogs who required special food, routine cleanings of their tank, and other amenities regarding their habitat.
"My sister was in first grade, and her teacher had [African clawed tadpoles] and asked if anyone wanted them," Menchaca said. "My sister took six. We didn't know taking them would be such a big responsibility."
In addition to the disadvantages of raising exotic pets, freshman Patricia Corasis says it is difficult to form relationships with them. She said she would rather own an average pet than her cockatoo.
"We don't really have a relationship with [the bird]," Corasis said. "But if we got a dog or a cat, it would be more interactive."
Cockatoos are seen as wild animals rather than household pets, Corasis said. She does not recommend getting a cockatoo because caring for him is a large commitment and he causes problems in her house. Corasis explains that her bird sometimes gets tangled in cords when they let him loose in the house. She also says he is very noisy and he occasionally disrupts daily activities.
Freshman Bella DeRosa used to own eight birds, including three parakeets and five zebra finches. She says that she named all of her birds and chickens after rappers, such as M.C. Chicken Little and Big Whitey.
The birds played a large role in her life since her family rescued them from impending slaughter. However, DeRosa also says that caring for them is difficult because of their special needs.
"You always have to clean up after them because they're not like dogs who go outside," DeRosa said.
DeRosa says she would keep chickens in her backyard if not  for a Glenview policy that bans it. DeRosa says she enjoyed her time with her birds and would recommend owning them.
"Birds were an intense thing, but I liked having a full house with all the pets," DeRosa said.