History Club explores passion of the past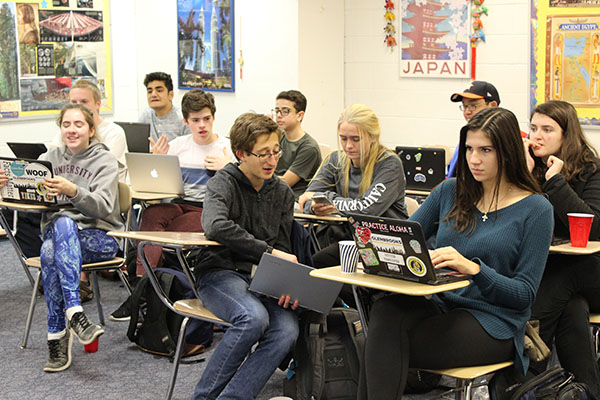 The word "nerd" is not an insult every Thursday in room 230 from 3:30-4:30. At South, many students refrain from joining more academic based clubs such as History Club with the fear that they will be considered "nerds." Senior Yvonne Fondrevay, co-president of History Club, addresses this fear and states that members of History Club are, to an extent, "nerdy."
"There is not anything inherently wrong with the enjoyment [of history]," Fondrevay said. "It's an environment where a lot of people who like a subject [are] having fun. Honestly if that is considered nerdy, then I'm all for it."
Senior Maja Markovic, co-president of History Club, agreed that the club might be for nerds, but she defined History Club as much more than that. For Markovic, History Club is about taking a subject she loves and turning it into something interesting for everyone.
"History Club is a space where students that enjoy history can immerse [themselves] into the different areas and themes of history," Markovic said. "Some days you may not be interested in [history], but [the] majority of the time, we are learning stuff that you've never learned before and diving deeper into history."
Fondrevay said that History Club wants to grant people the opportunity to share things about history that they might find personally  exciting. The club is a place to recognize where history can be entertaining and where you can really enjoy learning about it outside the classroom, Fondrevay says.
"I think the issue with people's perception of history is that it's very rigid," Fondrevay said. "You learn it in a class setting, which makes it not as fun as it would be to a lot of people if they got to experience it outside of the classroom. It is a new perspective of what history is for a lot of people."
A History Club meeting typically consists of watching a documentary, a presentation, or participating in a quiz bowl about different history topics, Markovic said. Markovic believes in learning and sharing history that she truly cares about. According to Markovic, she likes to present about her Serbian heritage.
"A lot of people think that history is [not] interesting, but everybody finds every subject interesting in their own way," Markovic said. "[History Club is] teaching others about something that matters to me and making people aware of history that most people don't know about."
Once in awhile, Elizabeth Lupfer, history teacher and History Club sponsor, invites in guest speakers to the meetings to talk about their areas of expertise. According to Lupfer, these kinds of meetings allow students to learn about different history topics through a deeper lens.
"We have two different professors that have come fairly regularly [in the past]," Lupfer said. "Dr. Beiriger comes from DePaul, and he talks about the 20th century, something with World War I, [and] World War II. Another professor comes from Western Illinois, and she talks about the Tudor Period, like [the] Black Death and Elizabeth I."
In the future, Lupfer hopes History Club will receive more attention and respect. According to Lupfer, she hopes that it will continue to be a place where students can explore their passions and experience history in many different perspectives.
"I hope [that History Club] gets the recognition it deserves  [and] that it is a healthy club," Lupfer said. "Students have been consistently meeting [because the club] really means something to [them]. We need to make sure people know more about it, [and] I would love to have more staff members speak [at the club]."