Men's Basketball looks to build on crucial victories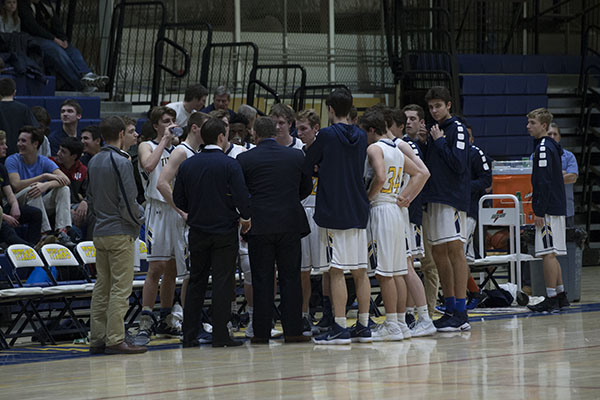 ame against the Warren Blue Devils with a two and six record, and a looming sense of uncertainty, according to first year head coach Phil Ralston. After the game, the Titans left Warren with a victory and a newfound sense of confidence Ralston said.
The Titan's victory against the Blue Devils proved they had the tools to find success and win big, competitive games, according to Ralston. Ralston believes, the Titan's win against a strong basketball school helped bolster the confidence of the men.
"Warren is traditionally a strong basketball program, and they are very good this year," Ralston said. "For us to go into their gym and completely dominate them on both ends of the floor was one of the key nights for me that showed we had kids doing the right things."
Leading up to the men's game against Warren, the Titans offense had struggled to move as one unified group, according to Ralston.  The Titan's offensive game found its groove, and played one of their best games of the season against Warren, according to Ralston.
"A lot of our offense up to that point, I would qualify as disjointed," Ralston said. "We weren't really in sync with one another. I would say in that game we had several stretches where we allowed the game to come to us. We had guys who were finally playing together as a team."
Junior Mac Hubbard believes that although the Titan's offense has become more fluid, their defensive execution needs to improve.
"We are playing better as a team, we just need to be solid defensively," Hubbard said. "Against Evanston, we gave up way too many points, and it was really easy for them. If we improve our defense, that will lead to good transition offense and easy baskets."
Despite some defensive struggles, the Titan's effort and progression throughout the season has led to their competitive play, according to Hubbard.
"We have taken practices more seriously, and we have started to work and play better as a team," Hubbard said. "We can see the progress game to game, against New Trier we weren't even supposed to be remotely close in that game, yet we only lost by a point."
Junior Gavin Morse believes the intensity of practice is a key contributor to the Titans new found succes and competitiveness. The level of competition during practices helps the men improve every day, according to Morse.
"[Practice] is almost as hard as games," Morse said. "We push each other every single day to get us ready for [the big games]."
With this newfound confidence, South can focus on winning their upcoming conference games through their new offense, according to Morse.
"If we keep running the offense we have I think we can be successful," Morse said. "I think we really turned a corner and people will be pleasantly surprised with the outcome."