Men's football bounces back, but falls short in playoffs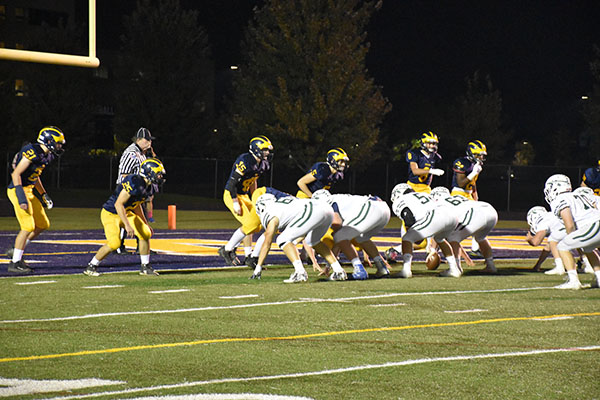 The varsity football team celebrated as they realized that they made the playoffs for the first time in four years. After completing this season with a 5-4 record according to Jeff Chrones, the Titans were relieved to have a chance in proving the program's success.
Coming off a year of transition, the GBS Football team had a successful start to the season, according to senior linebacker Conor Nash.
"We wanted to have a rebound year," Nash said. "We wanted to get off to a fast start in the season, and I say we accomplished that after going 3-0."
The Titans were more selfless than last year. Players have been looking to play for each other, not just themselves, according to Nash.
"I have to give a lot of props to my teammates," Nash said. "I couldn't be here without them, and I couldn't have the success I've had without them."
This season has also been different than past because of the team's camaraderie, according to senior running back Savontae Garner.
"This senior groups leadership qualities [are different]," Garner said. "We try to make our younger teammates feel like they're apart of the team. There's more sense of unity in the team that the seniors try to build."
Despite the Titans loss 28-15 to New Trier to finish the regular season, they were still able to clinch  a spot in playoffs for the first time in four years, according to senior captain and quarterback Jeff Chrones.
On October 27th, The Titans played Barrington in their first round of playoffs. Chrones says the whole team was anticipating a tighter game, but Barrington proved to be to much for the Titans, handing the Titans a 48-3 loss, making it the Seniors' final contest .
"We just didn't make the plays on offense and our defense couldn't make any stops," Chrones said. "It was sad since it was my last time taking the varsity football field and possibly the last time I'll play tackle football ever again in my life. It was especially [sad] since I will never play again with those guys, my best friends, that I have played with all those years."
Although the Titans fell short in the first round of playoffs, they knew they lost to strong competition. The coaches were still proud of the Titans for all they accomplished this season, according to head coach David Schoenwetter.
"I didn't think we played our best game and I thought [Barrington] did, and they are ranked in the top 10 for a reason; they are a terrific team," Schoenwetter said. "We were disappointed in the outcome of it, but we were definitely happy to be in the playoffs."
The team's adversity and their ability to overcome tough losses is acknowledged by the seniors and is especially hard since they know their GBS football careers are complete, according to Garner.
"At times you will have things that don't go your way, but our team specifically understood that and reacted on it in a positive way," Garner says. "Being in the program for four years, and having played football before high school [is] hard to leave because you're so used to the system and the great coaches and your teammates you grew up with."
Although The Titans did not finish the season as they anticipated, the team was still able to guide the program in a stronger direction for years to come, according to Chrones.
"I think we did a great job [this season]," Chrones said. "We overcame people not believing in us and expecting that we wouldn't win any games. Being able to win five games and make the playoffs was unbelievable."