Technology takes over with time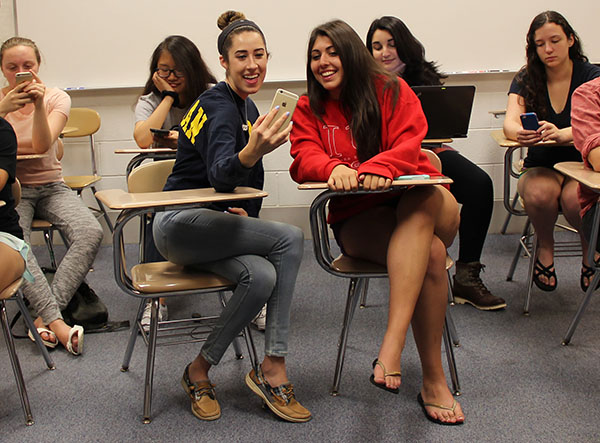 The bell rings after class, and the halls flood with students. As one attempts to navigate to their next class, they are nearly bound to bump into someone who is more focused on their Instagram feed than on the fact that they have begun to walk on the wrong side of the hallway. It is no secret that technology and the constant use of cell phones have become deeply embedded in our culture.
In fact, in an unscientific Oracle-survey conducted of 170 South students, 78 percent of students surveyed stated that they use their phones for more than two hours each day, with 18 percent of these students claiming to use their phones for six or more hours each day.
According to senior Lauren Yep, the increase in the use of technology is more evident amongst her peers now, in comparison to when she started school at South roughly three years ago. Yep attributes the apparent increase over the past few years to the rise of social media.
"It has become so easy to always be connected to everything," Yep said. "When you feel disconnected, it's just so different."
Scott Glass, Media Collage teacher,  discusses the way in which one can use this generation's connection to technology in mindful, creative ways as opposed to thoughtless ways, such as mindlessly scrolling through a social media feed or surfing the Internet. Similar to Yep, Glass has also noticed a development in the use of technology amongst his students.
"Up until about five or six years ago, there weren't as many students who had cell phones," Glass said. "Certainly when it comes to the kind of smartphones we have now, I'm always curious to see what people do when they come into the classroom. I would say about half to three-quarters [of students]- if they aren't already looking at their phones- the first thing they will do once they sit down is take [their phones] out."
In alignment with the observed increase in the use of cell phones, Yep is able to notice changes in the way individuals around her interact within group settings. "When I go out with my friends, everyone is always on their phones," Yep said. "It [seems like] it's really hard to communicate face-to-face."
This past summer, Yep traveled to the Philippines to visit her family. For these three weeks she spent abroad, she did not have access to a network that would allow her to use her phone. According to Yep, engaging with her family in a technology-free environment was a very different experience from what she is accustomed to in Glenview.
"When I went out with my friends for the first time after I got back [from the Philippines], I realized that they were all on their phones," Yep said. "After that trip, I was so used to being surrounded by people that were all interacting with each other that I became the one trying to get [my friends] to talk because they were all buried in their phones."
Though technology has become an efficient way to communicate, not every individual necessarily adores their devices. According to Glass, his students have voiced the fact that they are not entirely content with their phones or other technology.
"When I [ask my students] if they are dissatisfied or satisfied in general with the way they use their devices, the majority of people will always say they are ultimately dissatisfied," Glass said. "They do feel as if they use it mindlessly, or do feel unnecessarily attached and even addicted to always having to check [their phones]. I think as that feeling grows […] maybe people either on their own or together will start to resist some of those temptations and begin to carve out time for more non-tech moments."
In terms of the future, Yep predicts the use of technology will not reach a natural period of decline anytime soon, and suggests there would be major repercussions if the current generation attempted to live without technology. Because her generation has become so dependent on technology, she believes we would not be able to function without it.
"I think technology is going to be used more when it's efficient [in the future]," Yep said. "Hypothetically, if everything were to crash, we would all be lost."
As Yep observes, a world without technology seems unfathomable to many. Technology plays such a pivotal role in the everyday lives of this generation, it cannot be overlooked.