Boys' lacrosse completes marine training program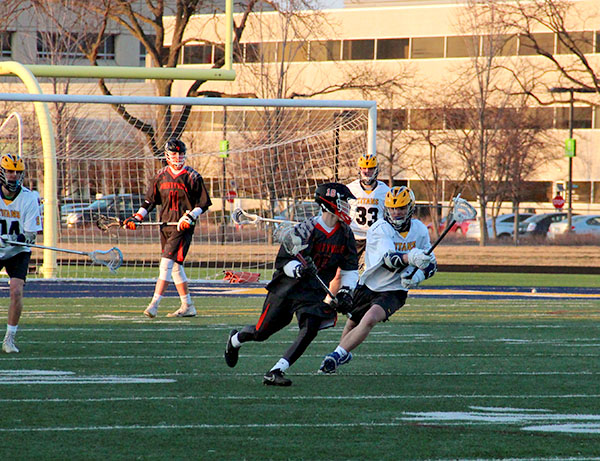 Hang on for a minute...we're trying to find some more stories you might like.
During spring break, students travel all over the country to lay by the pool or hit the ski slopes in order to relieve the stress of school. The boys' lacrosse team spent their spring break by the pool as well: South's pool at 5 a.m.
Rather than preparing solely with the sport, Head Coach Will Jeffery looked to The Program, a leadership development and team building program led by Cory Ross, Marine Corps Officer. The boys took part in "Judgement Day" and were given missions to complete both on the turf and in the pool, which lasted two days for four hours each.
Jeffery said, "We want the guys to carry themselves in a way they can be proud of, we want them to be able to trust each other and the coaches. We got rid of individuality."
One of the more rigorous missions for the team to complete was in the pool where the boys had to tread water in their sweatshirts, co-captain Harry Panagakis says. While the drills didn't seem difficult at first, both Panagakis and co-captain Aidan Prikos emphasize that if the drill wasn't completed perfectly, they failed.
"If [the drills] weren't done perfectly, we had to keep doing them," Prikos said. "It was really challenging because if one person was messing up, the whole team was messing up."
In the pool, Prikos led the team through the drill while also completing it himself. The boys had to tread water as they took off their sweatshirts simultaneously, then they would have to lift the sweatshirts above their head. Once Prikos was told everyone had their sweatshirts above the water, they then had to trade sweatshirts with a partner. The boys' attempted it a number of times and it took about 2 hours to complete.
While the drill in the pool was difficult to complete, Prikos believes the program was a positive experience as it brought the team closer.
"We initially [attempted] the drill in 5 minutes, which wasn't very good. Finally, we had one last shot, we ended up getting it done in under two minutes which was awesome for us," Prikos said. "We were all super motivated and it was a great way to propel our season."
Jeffery stressed that The Program was more mentally challenging rather than physically. For instance, the team's attention to detail, discipline and sustained focus was the most difficult as they would forget little details during a mission. However, once the program concluded, Jeffery was impressed with the dramatic difference in the boys as they became more dedicated within 48 hours.
"When we start a workout or stretch in the past we would say, 'Ready, Start.' Now we say, 'Ready, Attack.' The idea is to change your mentality in everything you do," Jeffery said. "Whether it's stretching or getting dressed for a game, it's always on the attack and it's always as a group."
The team consists of a majority of juniors as they lost close to 16 seniors last year, according to Panagakis. The juniors have stepped up as leaders, which Panagakis says has given the team a lot of potential.
"Our juniors have done a great job of filling in the leadership positions and are filling in a lot of positions they thought they might not have to fill," Panagakis said.
The team this year compared to last year consists of a deeper bench with talent all across the board, whereas last year, there were only one or two guys who stood out, Jeffery says. As a result, everyone on the team has the potential to make the right plays, but everyone is waiting for someone else to step up. Since the team consists of mostly juniors, Jeffery wants them to step up now rather than waiting until their senior year.
"If [the juniors] start playing like seniors, this can be the year they win that state championship. I want them to see that right now if they act like seniors, they will be good enough to reach the top," Jeffery said. "It's a challenge because they think they're still developing whereas I expect them to be there right now as juniors."
Prikos and Jeffery both emphasize the team's goal of winning a playoff game, as South hasn't won a playoff game for the past three years. The team is preparing for a stronger outcome by being more focused and having higher energy at every practice, Prikos says.
"One of our big issues is that we are not taking enough risks," Prikos said. "We have to start taking more risks and having more confidence to win games."