Sectionals or Bust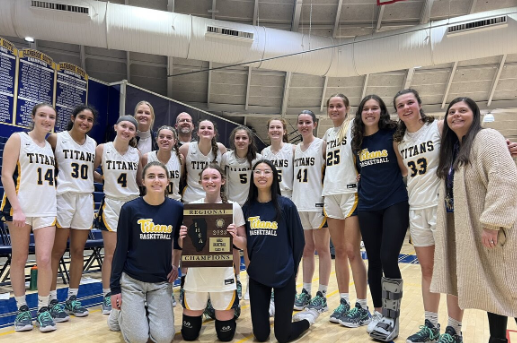 For the second consecutive year, Glenbrook South's Varsity Girls Basketball team are Regional Champions. Last February, the Titans were defeated by Loyola Academy in the sectional semifinals. This year, they have earned the fourth seed in their section and defeated the thirteenth seeded Niles North Vikings, 61-32. The team then defeated the fifth seeded New Trier Trevians, 51-39, to win the Regional Championship, and advance to Sectionals. 
"The biggest difference [between this year's team and last year's team] would just be maturity," said coach Scott Nemecek. "Everyone's just a year older, a year stronger, a year smarter, etc."
Team chemistry is also at a high after maintaining a core of Sidney Rogers, Gina Davorija, and Anna Rosenberger for multiple seasons.
"I think we've gotten so close we can work together so well on offense and both defense," said sophomore guard Gina Davorija.
With a record of 25-7, the Titans placed second in the Central Suburban South Conference. After winning the regional championship, the team wants to make a deeper run with the newfound experience under their belt.
The Titans finished 8-2 in conference matchups this season. Both losses came from the Maine South Hawks, the only team to place ahead of the Titans in the conference standings. They will face the Hawks in this year's Sectional Semifinal.
"We're excited to see them a third time," Davorija said. "It's hard to beat a team three times."
The Titans finished the season with the most points scored and fifth most points allowed in their conference, according to MaxPreps. They headed into the postseason ranked 31st in the state. 
"Our team's final goal is to get through sectionals this year," said senior guard Sidney Rogers. "I think this year we can really do it and everybody on the team really wants to." 
To follow the Titan's journey through the playoffs, use: https://tinyurl.com/2js2x27m