Titan football intercepts its way to success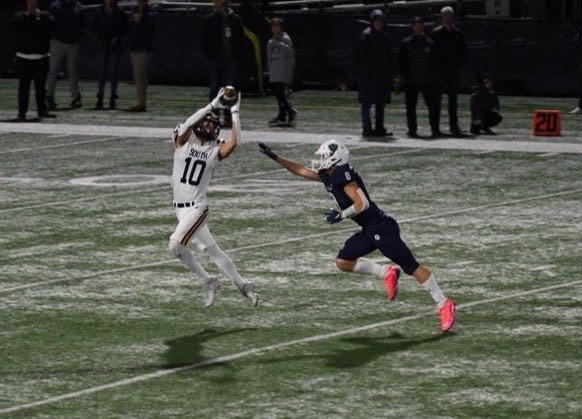 Success, grit, and brotherhood are what led the varsity football team to success this season, Head Coach David Scheonwetter said. 
The varsity football team finished the season with an 8-1 record and a first round victory in the playoffs against Homewood-Flossmoor. However, the season ended with a loss in the second round of the playoffs against Glenbard West, 42-0. This loss doesn't undermine the success of the Titans this season as they went 4-1 in their conference games, Schoenwetter explained.  
"We had a very good year," Schoenwetter said. "In the regular season, we got better every week and were prepared for every game. We lived up to our mantra of being 1-0." 
The Titans mindset of going 1-0 is what guides them to success and allows them to remain focused throughout games and play together, Senior wide receiver Griffin Dahiya said. 
"When we play together as a team [we are] unbeatable," Dahiya said. "It doesn't matter who we play."
Along with the mantra of going 1-0, Schoenwetter credited some of the team's success to the defense, who have made an impact in games by creating turnovers and making critical third down stops. 
"Our defense has been tremendous," Schoenwetter said. "We have a defense that flies around and [swarms] the football."
 Senior Luke Marino, linebacker and wide receiver, explained that a large part of the team's success is built off of the trust the players have instilled in one another. 
"One of the biggest things this football team has is really good chemistry," Marino said. "We have a lot of trust and I believe in everyone to do their job and make a play."
Even though the varsity football team has been successful the majority of the season, their two losses during the season, including the postseason, came against the Maine South Hawks on Sept. 30 where South lost 23-16, and in the 2nd round of the playoffs to Glenbard West. Schoenwetter acknowledged that the team played hard and that these losses don't take away from the successful season that the Titans had.
"While the season did not end as we would've hoped, a loss in the playoffs does not mean that the season was unsuccessful," Schoenwetter said. "We were proud of how far we came as a team and how much our players grew as people."
With the football season ending, Schoenwetter explained that the team will continue to build on the success of this season for the future. 
"Our program took another step towards being conference champions and competing for a state championship," Schoenwetter said. "Those goals are attainable if we continue to improve each year."